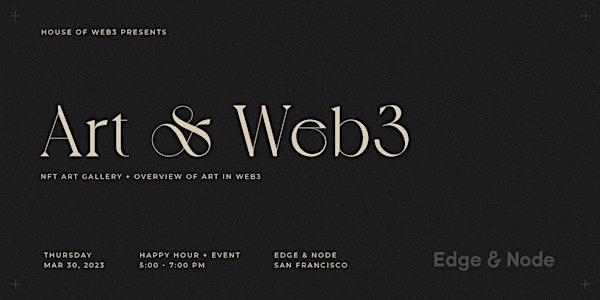 Art & Web3
House of Web3's first NFT Art Event! This is for digital artists, curators, collectors and all art enthusiasts.
Date and time
Thursday, March 30 · 5 - 7pm PDT
Location
Building 103 103 Montgomery Street San Francisco, CA 94129
About this event
On March 30th, the House of Web3 along with Artist Kyle Gordon and Curator Lisa Kolb, will be hosting their first Art & Web3 Night with a Gallery Exhibition and Happy Hour sponsored by Sunset Squares Pizza.
We are excited to announce that joining Kyle and Lisa for a panel will be OG Artist Coldie and the CEO/Co-Founder of Async Art, Conlan Rios.
We have a great talk planned for everyone new to Art & Web3 and also for those who are seasoned creators, collectors, and builders. Look out for future events to include more hands on workshops, creator-centric events, rotating House of Web3 exhibitions and live minting experiences.
As a means of activating and shedding light on local/Bay Area creators and community members, we had an open call for artists and will be showing their work on a variety of digital displays throughout the space.
Featured Artists: Coldie, Kyle Gordon, Conlan, simoneone, Gabe Weis, Skywaterr, Jeremy Moseley, Supafray, Jon Ruiz, Luz Donahue, Jack Simpson, Scott Strazzante, dennis xing, emergent, Dilek sezen / DSZN, pixelactivist, Dire Cat (aka Muhammad Alhawagri), Raphael, Luther Brown.
Paul Rusconi's physical artwork and collection is featured throughout the space and is showing a digital piece as part of this exhibition as well.
About House of Web3
It all starts with human connection.
The House of Web3 is for web3 pioneers and those who contribute knowledge, education, and code to the community at large. Through the tools and platform of decentralization, the 'House of Web3' inspires and designs solutions for the challenges we collectively face.
Through interactive panels, workshops, and curated events, this handpicked collective loves to teach and to learn. We bring together influential creators of web3 including the builders, researchers, inventors, and partners who are literally the writing code of the future into the fabric of humanity.
Not quite a co-working space nor an office, we are a private space based on meritocracy, representing the highest values of decentralization. While we are not an office, by-invitation, you can build and create a web3 project alongside us.
About Edge & Node
Edge & Node is the core development team behind The Graph, working to build a vibrant decentralized future. The team is dedicated to the proliferation of web3 applications that share value, utilize dynamic incentives, and build for human coordination. Founded by the initial team and developers behind The Graph, the team has extensive experience in developing and maintaining open-source software, tools, and protocols as well as building and launching unstoppable applications.