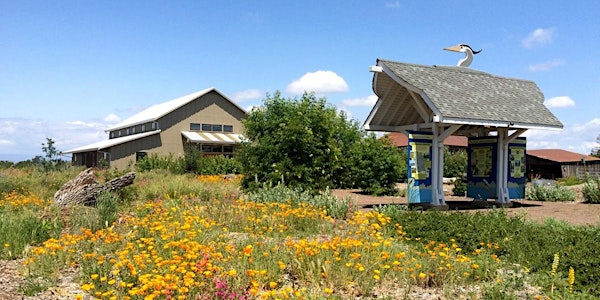 Art Walk - Gallery and Garden Open at the Laguna Environmental Center
Happy Earth Day! Enjoy our current exhibit, "A Laguna Field Guide" by Christopher Reiger then walk around the native plant garden.
By Laguna de Santa Rosa Foundation
Date and time
Saturday, April 22 · 1 - 3pm PDT
Location
Laguna de Santa Rosa Foundation 900 Sanford Road Santa Rosa, CA 95401
About this event
Free! No RSVP needed. Visitors are welcome to bring a lunch and sit at the picnic tables.
Exhibit Overview
Artist, illustrator, and writer Christopher Reiger is exhibiting a selection of posters from his popular "Field Guide" series in the Heron Hall Gallery and Gift Shop! Each poster on view features the color column of a common or frequently-observed bird species in the Laguna de Santa Rosa.
Artist Statement
For the Field Guide project, I consider birds from one angle – literally, birds viewed in profile. I then breakdown each bird by color (plumage, legs, beaks/bills, and eyes) and create the column shown in the center of each poster. The colors in each column are stacked according to the percentage of a given color observed, with the largest share at the column's top and the smallest share at the column's base. The bird's English common name and its scientific binomial are noted on the poster's base, along with information on the bird's sex, and, if relevant, plumage variation. The resulting posters are visually compelling tributes to each featured species.
Heron Hall Gallery & Gift Shop
The Heron Hall Gallery & Gift Shop at the Laguna Environmental Center exhibits multiple shows per year of nature-themed art. Proceeds benefit the educational and conservation efforts of the Laguna Foundation.
Native Plant Demonstration Garden
The Laguna Environmental Center includes a 2-acre native plant garden with beautiful displays of plants that are found in some of the natural landscapes of Sonoma County. The grounds include picnic tables, a Children's Playscape with a living willow tunnel, and open space views of the Laguna watershed.
About the organizer
The Laguna de Santa Rosa Foundation works to restore and conserve the Laguna de Santa Rosa, and to inspire public appreciation for this Sonoma County Wetland of International Importance.