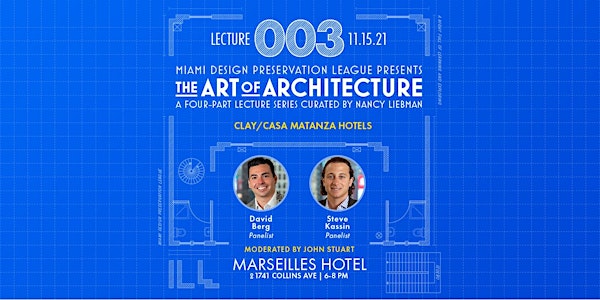 "Art of Architecture" Clay and Matanza Hotels (Lecture 3)
Join David Berg and Steve Kassin of Infinity Real Estate to learn about these two historic preservation projects on Española Way
When and where
Location
Marseilles Hotel 1741 Collins Avenue Miami Beach, FL 33139
About this event
Join us for Lecture 3 in a four part series highlighting historic preservation projects in Miami Beach. Event Location: Marseilles Hotel, 1741 Collins Ave.
David Berg and Steve Kassin of Infinity Real Estate will speak about these two historic preservation projects on Española Way.
Moderator: John Stuart, Florida International University
(Please Note: FREE PARKING -- Pull up to hotel for directions)
Speaker Bios:
David Berg
David Berg is a Partner overseeing Infinity's middle-market acquisitions, investment ventures, and investment strategy within the firm's expanding portfolio in New York City, Washington, D.C., Philadelphia, and Miami. David joined Infinity Real Estate in 2011 as Investment Director of real estate and corporate holdings. Since then, he has led Infinity's expansion into the Philadelphia and Miami markets and is additionally responsible for maintaining and servicing the firm's relationships with its lenders and investors within his markets.
David has established himself as a driving force behind Infinity's real estate acquisitions, capital transactions, and the development of the company's portfolio. His entrepreneurial approach and investment expertise have helped Infinity acquire, develop, and execute transactions in excess of $450 million. Under David's leadership, Infinity is currently developing or repositioning over 1 million sq.ft. of commercial and residential property.
Prior to joining Infinity, David worked at Monday Properties, where he focused on the investment management of Class-A office towers, including 230 Park Avenue and an 11-asset Rosslyn, VA portfolio. Earlier, he was vice president of acquisitions at Mermelstein Development focusing on mixed-use multi-family and retail-oriented investments. David started his career as an investment banker at both JPMorgan and RBC Capital Markets.
David graduated from the Goizueta Business School at Emory University with majors in Finance and Real Estate. He is an active member of the Miami Beach development community, serving as a Vice President of the Ocean Drive Association, the co-chair of the South Beach BID, a board member of the Washington Avenue BID, and the vice president of the Espanola Way Association. David is the former co-founder and vice president of the Asperger's Awareness Counsel as well as a devoted supporter of the ASPCA and Jewish National Fund.
David is a lifelong athlete and an avid Philadelphia sports fan. He enjoys playing hockey, skiing, tennis and soccer. He currently resides in New York City with his wife Maya and dog, Roux, named after his favorite hockey player Claude Giroux.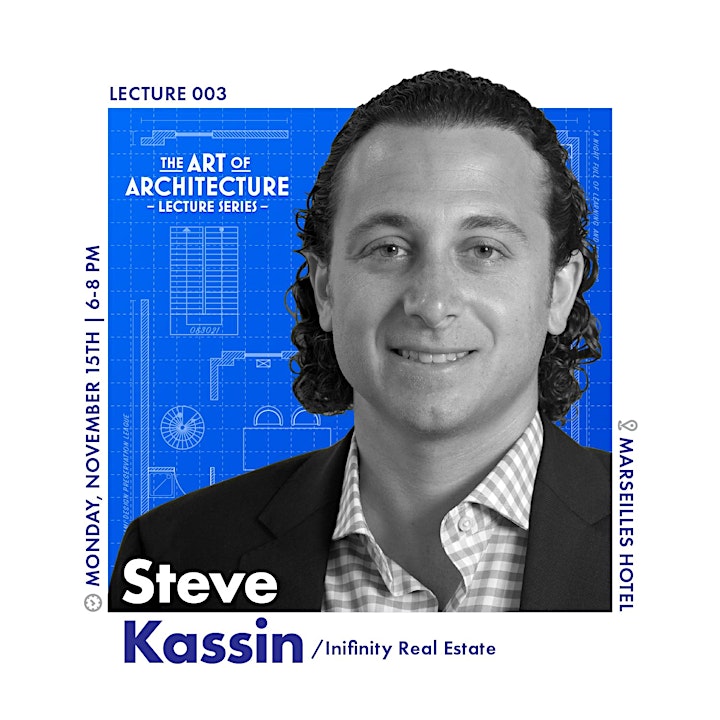 Steve Kassin
Steven J. Kassin ("Steve") founded Infinity Group (now Infinity Collective) in 2005 and oversees the firm's corporate operations, investment strategy and portfolio management. Steve works closely with the partners and project team in selecting, underwriting, planning, and executing each development project or investment venture. Under his stewardship, Infinity has spearheaded over 100 individual partnerships and has transacted on over $2.5 billion of direct real estate and venture investments.
From the very beginning, Steve gravitated toward "transformative" real estate investing, creating inspired and vibrant mixed-use properties from underutilized, undermanaged, or underdeveloped real estate. Infinity has since cultivated an impressive portfolio of development and redevelopment projects across 11 states, comprised of over 60 commercial properties representing over 2.5 million square feet and over 2,000 luxury rental apartments. Steve's passion for preserving history and reinventing irreplaceable real estate shaped Infinity's specialization in rehabilitating over 36 neglected historic or "landmark" designated properties in high-visibility and high-value locations.
 Steve also led Infinity's entre into venture capital investments over the past 5 years, by partnering with and nurturing progressive entrepreneurs building high-growth businesses in sectors related to and synergistic with real estate. Steve now serves on the board of directors of &pizza, FAST Acquisition Corp. (NYSE: FST), and Velocity Acquisition Corp. (Nasdaq: VELOU). Infinity's portfolio of businesses includes some of the fastest growing names in hospitality, fitness, and consumer technology.
In October 2015, Steve was given the honor of being named one of Globe Street's "Fifty Under 40." In 2016, he was named a "Steward of Nature" by the NYC Nature Conservancy for his significant contributions to neighborhood and green-space planting programs throughout New York City, as well as his leadership in other environmental initiatives. In 2015, Steve enrolled Infinity in 1% For The Planet, pledging 1% of the company's revenues to environmental initiatives. Steve also serves on the executive boards of multiple non-profit environmental and social organizations in his local community.
Steve graduated from the NYU Stern School of Business with concentrations in Finance and Economics. Today, he serves on the advisory board of NYU Stern's Center for Real Estate Finance & Research. A committed NYU alum, he and his two brothers were honored at the ribbon cutting for the Kassin Center located in the lobby of Tisch Hall in Spring 2017.
Steve lives in New Jersey with his wife and two daughters. He has been an avid surfer and an all-around outdoorsman since childhood. He credits his love for surfing and the ocean with sparking his passion for and commitment to environmental activism.