Description
*THIS EVENT IS ALMOST AT CAPACITY - THERE WILL BE NO PURCHASES ON THE DOOR UNFORTUNATELY
Art and VR: A Soiree of Immersive Art & Tech - Black Tie Edition
Presented by Upload SF
We're back! Join us at Upload SF for a spectacular evening of inspiring artwork and cutting-edge virtual reality. This will be our first ever Black Tie Party, so dress to impress!
Art & VR brings the bay area tech and art communities together at Upload SF. Designers, artists and techies converge to share ideas and explore how technology can add a new medium to the creative industries.
This is your chance to see new work by emerging and established artists, and experience the latest virtual, augmented and mixed reality.
We will have original artworks for sale alongside live VR demos. 100% of art sales will go directly to the artist.
Ticket includes:
Open gallery featuring some of Bay Area's most popular artists

LIVE Tilt Brush Battle

VR Demos on HTV Vive, Oculus Rift, and Gear VR

Meet the Artists - Panel chat about the synergy of art and new immersive tech such as VR and AR

Traditional Artist Tackle Tiltbrush

Interactive dance performance from Kinnetech Arts

Backstage access to live Mixed Reality studio

360 party footage after event
Open bar and light appetizers will be provided.
Featured Artists: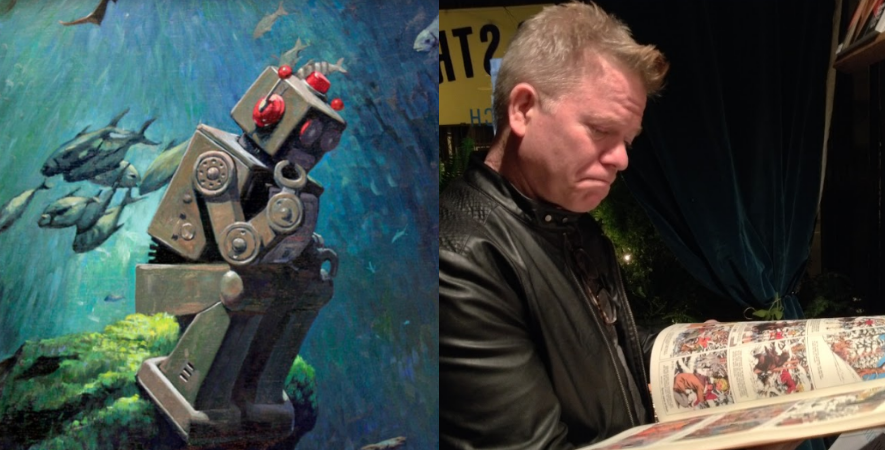 Eric Joyner
Eric has always had an interest in the future and art. Japanese toy companies in 1950's & 60's made fascinating robots, spacemen & space ships made of tin. Having collected a few in the late 1980s, & 90's, he eventually decided on bringing these robots & ships to life, as a theme for a series of paintings, After having made the decision become a gallery artist (his rule is to only paint things he likes). In terms of artistic style, he is greatly influenced by the Brandywine and ashcan artists and illustrators of the early 1900's.
Over the years he's done a variety of things such as teaching, creating backgrounds for Internet cartoons, texture mapping, but now mostly gallery work.
www.ericjoyner.com | Facebook: robotsanddonuts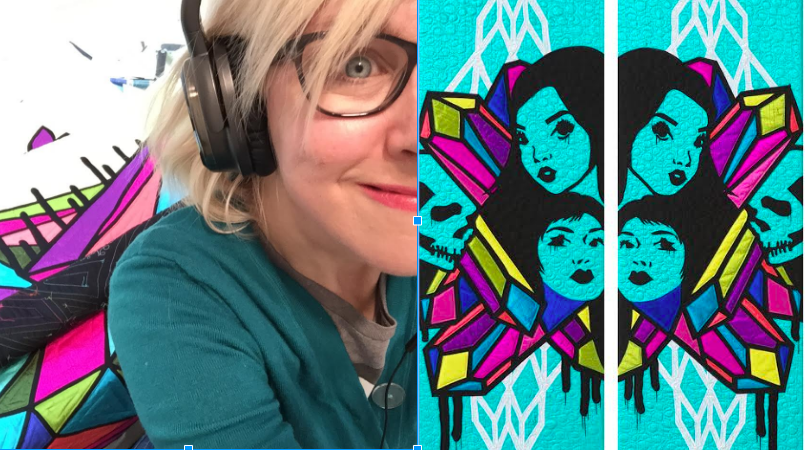 Amy Ahlstrom
Amy Ahlstrom is an urban quilter creating modern pop art. Inspired by the street art, signage, and graffiti in city neighborhoods, Amy takes digital photos of found images, sampling and remixing them into urban quilts. Using hundreds of digital photographs, she designs collages by computer, makes paper patterns, and hand-cuts and sews quilts. The resulting quilts, made of silk and cotton and stretched onto frames, are tactile visual interpretations of urban environments. They re-imagine the urban landscape and re-invent quilting as a pop art medium. Based in the Bay Area, Amy holds a Master of Fine Arts in Fiber from the School of the Art Institute of Chicago and a Bachelor of Fine Arts in Fiber from Northern Illinois University.
Instagram: @amy_ahlstrom | Facebook: amy.ahlstrom.5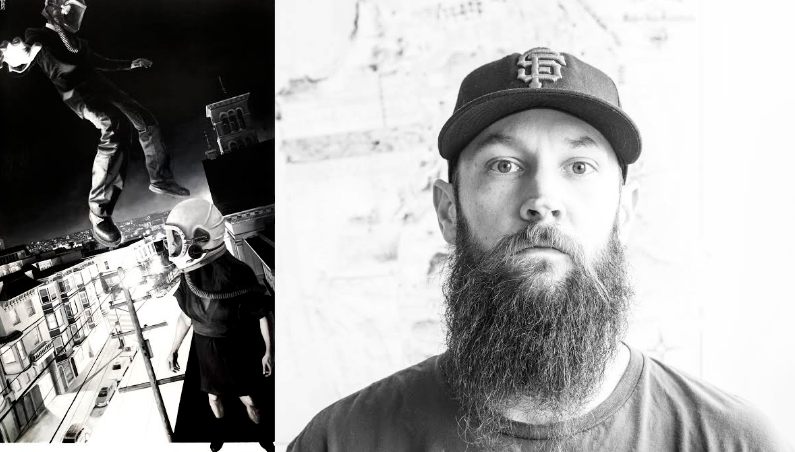 Alec Huxley
Alec Huxley (B. 1980) is a painter based in San Francisco, California. His work is representational, anchored by haunting cityscapes definitively of the American West Coast and the ghostly remnants of it's historic migration. These backdrops serve as theater for space travelers and wild animals and as well as imperfect records of place, time and architecture. He is self taught with experience in printing, graphic design and photography.
Instragram: @alechuxley | Facebook: alec.huxley.5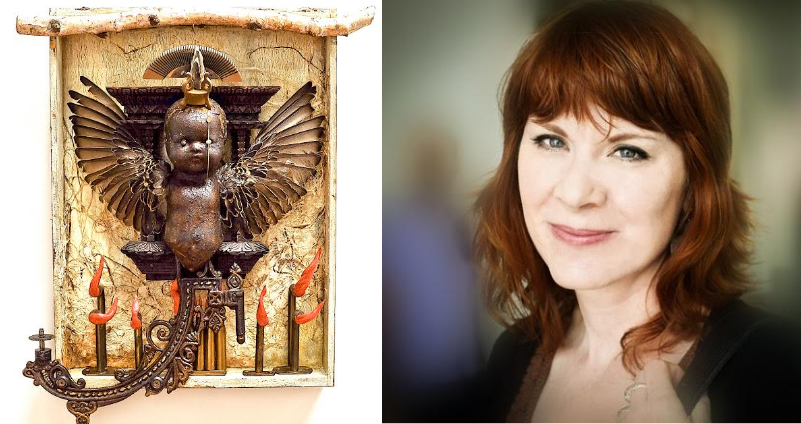 Dianne Hoffman
Dianne Hoffman is a self-taught mixed media artist with a primary focus in found objects and recycled materials mingled with collage, paint and clay. Her work conveys nostalgic stories that balance aspects of light and dark with whimsy, sincerity and magnetism. Dianne has been a full time artist of salvaged and repurposed components since 2010 with work found in collections worldwide. She maintains an abundant workspace at Arc Studios and Gallery in the South of Market neighborhood of SF and exhibits her work frequently throughout the Bay Area.
www.diannehoffman.net | Instragram: @diannehoffmanart |Twitter: @dhoffman4art | Facebook: DianneHoffmanArt
Art Curated By: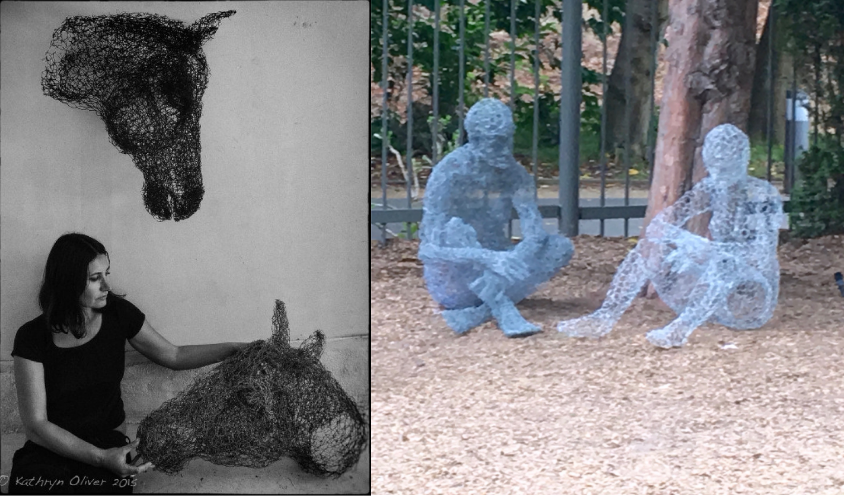 Marina Berlin is an industrial wire mesh artist and connoisseur of fine VR. For the past year she has been creating art installations based on her experiences in Virtual Reality, and exploring the intersection between the physical and virtual.


Featured MC's: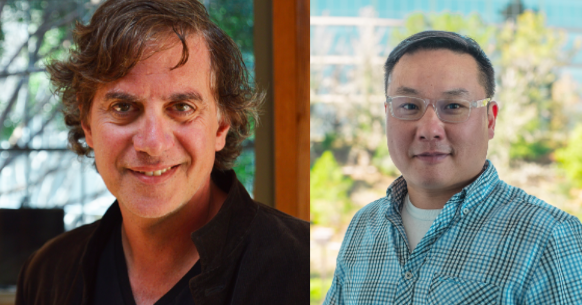 Tony Parisi, Global Head of VR and AR at Unity, is one of the early pioneers in Virtual Reality is an entrepreneur, researcher and developer of 3D computer software. The co-creator of Virtual Reality Modeling Language, he has authored books and papers on the future of technology.
David Gene Oh, Head of Developer Relations at Meta, is passionate about virtual reality, he lead developer relations and sales for Leap Motion, but found a new home at Meta, the world's most interesting headset, according to The Verge. In his free time, David loves talking about XR (AR/VR), on the Dopamine podcast, with Tony Parisi.
Interactive Artisits, Performers and Activities
Create Your Own VR Art

VR Art created by Art and VR attendees in Tiltbrush LIVE during event (that's you!) alongside a world renowned VR artist, Danny Bittman
You will get the opportunity to create your own VR art using Tiltbrush. Tiltbrush is an art medium in VR where you can create beautiful art all around you, and snap a picture to tweet out to your friends. Test your skills live at Art and VR!
Other VR Artists Performing

Interactive Performances from Kinetech Arts
Kinetech Arts is a collective of artists and scientists striving to challenge possibility through collaborative creativity, creating performances that combine dance and science with the newest interactive technology, to create unique and beautiful experiences. Kinetech Arts has performed through out the Bay Area, hosts weekly open labs, and the annual Hack + Dance. Kinetech Arts was recognized by the SF WEEKLY as "Best Genre-Defying Sci-Artistic Collaboration of 2014
Interactive Artists - Performing Live
On Oculus Quill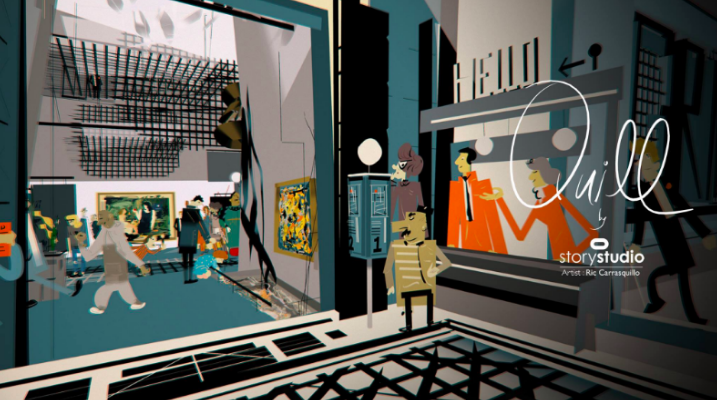 Ric Carrasquillo
Ric Carrasquillo is a cartoonist, illustrator and animator living in San Francisco. He has had the opportunity to illustrate for books, editorial, advertising and film. His work has been recognized by Graphis, The Good Design Awards and the Cartoon Art Museum. He has ridden an elephant and a camel but not a horse.
Website: http://www.squillostudio.com/
On Google Tiltbrush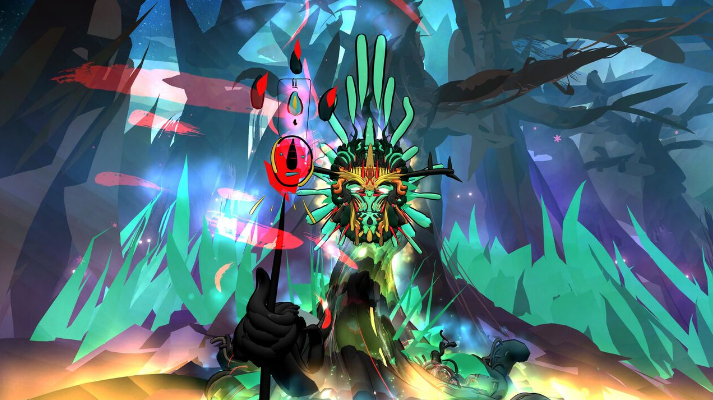 Steve Teeple
Steve Teeple (better known as Teeps) is a digital artist currently residing in the the city of Oakland, CA where he dreams of vast 3D worlds and mind bending creatures. His work explores the continuously developing relationship between sight and sound, stepping away from the usual formats to explore 3D spaces and study visual perception. Steve is also one of the first Tilt Brush Artists in Residence at Google, and early beta tester for Oculus Medium. He regularly tests early VR hardware and software to push the boundaries of digital art by utilizing virtual reality tools in a professional workflow. See more at www.steveteeps.com

Yagiz Mungan
Yagiz Mungan is an interdisciplinary developer/artist/scholar working with the concepts of interaction, VR/AR, games, web, mobile, algorithmic generation of audiovisual systems, sound, and interactive music. His recent individual works, which investigate the relationship between technology and our daily lives, have been shown in various venues and events in the Bay Area such as Soundwave Biennale, 3D Web Fest and CODAME. Yagiz is currently working at AKQA creating interactive experiences.

Isaac Cohen has published an eclectic array of works ranging from audiovisual fact-learning apps, interactive experiences made from recursive algorithms, to a real-time procedural music blogs where users traverse a universe of sound. His work has been featured in various exhibitions and written about in such blogs as Intel's Creator's Project, Google Experiments, The Wild Magazine, Mashable, The Future of Storytelling and Vice's Thump.

Micah James: A Start-up member regular. Artist, turned Salesman, turned Scientist, Micah James has had every job imaginable. Always curious, he tip toes along the line between fact and theory with his work. Currently a Creative Director at biotech start-up The ODIN, he spends his free time in the lab working with bio-luminescent bacteria, or in his office which is rigged for Virtual Reality where he paints with Google Tilt Brush.


Robbie Tilton
Robbie Tilton is an immersive designer for VR and AR based in San Francisco. He's been working in the VR/AR industry for over 6 years and has worked on next generation interactive platforms like Daydream VR and Google Glass. He specialized in making spatial interfaces and playful interactive worlds.
Line-Up for the Evening
7pm - Open doors
Experience VR art and explore the featured artists
7.30 - 8pm - Couch Talks
"Blurring the Line Between Art and Technology"
MCs:
Tony Parisi, Global Head of VR/AR, Unity Technologies

David Oh, Head of Developer Relations, Meta Co.
Artists on the Sofa
8pm - 8.30pm - Danny Bittman's live Tiltbrush Tutorial
with Amy Ahlstrom and Alec Huxley
8.30 - 9pm - Live Interactive VR Stage Performance by Kinetech Arts
9 - 10pm - VR Artist Live Performances in Upload's Mix Reality Studio
- 9 - 9.15 - Ric Carrasquillo on Oculus' Quill
- 9.15 - 9.30pm - Steve Teeple on Google's Tiltbrush
- 9.30 - 9.45pm - Danny Bittman on Google's Tiltbrush
- 9.45 - 10pm - Isaac Cohan on Google's Tiltbrush
10pm - Evening Close
Media Partner
We are proudly supported by VRARA

The VR/AR Association (VRARA) is an international organization designed to foster collaboration between innovative companies and people in the virtual reality and augmented reality ecosystems. It accelerates growth, fosters education, helps develop industry standards and connects member organizations. The SF chapter of VRARA brings this mission to the geographic epicenter of VR and AR
* No refunds on tickets for this event.