Description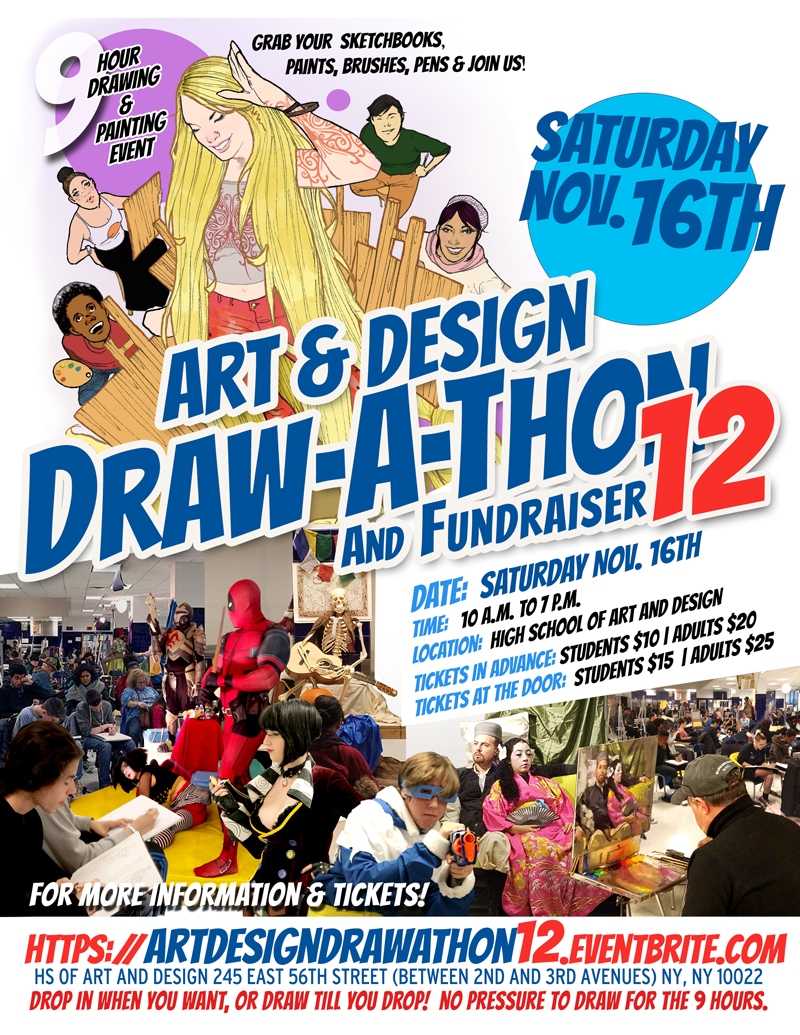 The A&D Draw-A-Thon and Fundraiser is a fun artistic way for us to raise money and practice our craft. Grab your sketchbook, paints, brushes, pens; whatever your medium and join us.

This event is unique among draw-a-thons because it introduces the tradition of live model drawing to high school art students. The nine-hour drawing and painting event will provide an opportunity for art students and professional artists to work side by side from a group of live models. Poses will vary from short sessions of five minutes, twenty minutes and one hour poses. Extended poses of three and six hours will also be available. There will be a dedicated room for costume (heroic/cosplay) figure drawing and a separate room for nude/traditional figure drawing. Students under 18 years of age will be required to submit a consent form signed by a parent prior to the event or they must be accompanied by a parent to the event to be granted access to the nude modelling section. St
STUDENTS UNDER 18 YEARS OLD ARE REQUIRED TO HAVE A PARENT/GUARDIAN CONSENT FORM TO ENTER THE NUDE MODELING SECTION OF THE EVENT. CONSENT FORMS WILL BE AVAILABLE AT THE TICKETING AREA. STUDENTS WITHOUT A CONSENT FORM WILL HAVE ACCESS TO THE COSTUME MODELING AREA ONLY. CLICK HERE For the Draw-A-Thon Parental Consent and NYCDOE Photo Consent to access the consent forms.

Tickets in advance: Students $10 Adults $20 Current Alumni Member $15
New Alumni Member & Ticket $35 (Membership $25, Ticket $10)
Tickets at the door: College Students $15 Adults $25
New Alumni Member & Ticket $45 (Membership $25, Ticket $20)
Currently Attending A&D High School Students Only $5.00 (Eventbrite fee included)
All other High School Students $10 (must show school ID)
Middle School Students and Parents $10.00 in advance, $15 at the door
NYCDOE Teachers w/ID $10.00 at the door
Middle school students interested in attending Art and Design are cordially invited to join us! Bring your pencils and your art pads. Meet some of our staff, students, and alumni. Middle school students must be accompanied by a paid parent/guardian who must stay with the student throughout the event.
students under the age of 16 must be accompanied by an adult. The costume modelling section will be available to all ages.
The High School of Art and Design and SIA have a long tradition of producing the finest creative talent in film, comics, fashion and architecture. Your participation will assist our Alumni Association in providing art supplies and scholarships for the A&D students.

We encourage all artists, students, professionals, parents and teachers to join us and create some art! Light refreshments and snacks will be available throughout the day.


This event is brought to you by the High School of Art and Design and the Art and Design Alumni Association.