About this Event
"There can be infinite uses of the computer and of new age technology, but if the teachers themselves are not able to bring it into the classroom and make it work, then it fails."
– Nancy Kassebaum
In recent years there has been an explosive growth in demand for graduates capable of creating new types of software, AI, robots and wearable technologies. New curricular frameworks have emerged at both school and university levels, aimed at building capacity in students and filling this emerging needs gap. Unfortunately, educators often lack the time and support to explore these resources and identify the tangible ways in which they relate to classroom practice.
This is the perfect workshop for those interested in "taking the leap" into the world of programming, robotics, and wearable tech in a supportive and hands-on environment. Spend two-days either beginning your journey or refining existing skills through truly personalised coaching and creative experiences.
You will also get to take home all of the gear used during the workshop so you can continue your learning journey!
Who is it for?
Educators who are interested in programming, circuitry, and robotics across K12
Educators who have no coding or programming skills are welcome
Community members and people outside of education
Students 13 and older
What will you do?
Learn to use a text-based coding language for the Arduino
Integrated lights, motors, and sensors into physical computers
Design a robotic controller
Create and sew a piece of wearable tech
Network and collaborate with like minded educators
What will you walk away with?
Understanding of basic coding and physical computing
Your own Arduino kit, Lilpad and other accessories
Tangible ways to implement these tools and skillsets into your classroom practice
About the Facilitator
Ringo teaches Robotics and Design Technology at the International School of Manila. In 2011 he began ISM's high school robotics program and has been immersed in that field ever since. His students build robots with Arduino and VEX hardware, and they compete both locally and internationally. Ringo has a passion for spreading the joy of robotics with both kids and teachers. When not building robots or laser-cutting, Ringo enjoys spending time with his wife Jillian and his two young boys. He also enjoys running and rocking out on drums.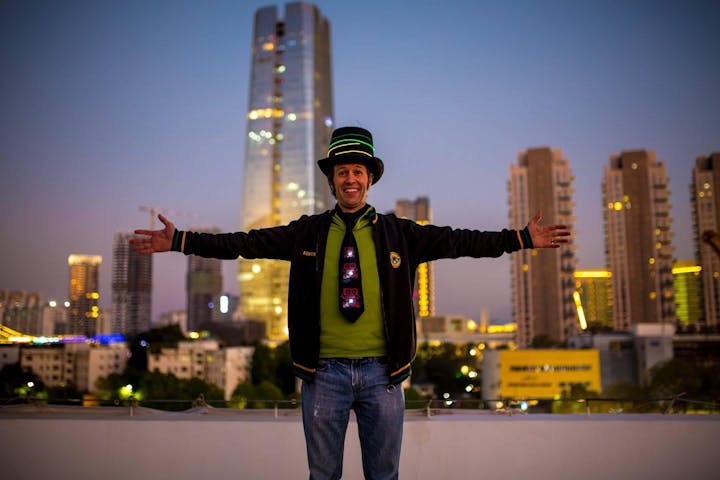 Schedule and Information
Friday and Saturday - 9:00 - 4:00 PM
Coffee/tea and lunch will be provided.
Full hotel, travel and visa information can be found here.
Ticket prices are in USD. Local bank transfer in Bahraini Dinar (170 BD) or Saudi Riyals (1,700 SAR) can be arranged. For more information about this or anything else please contact Luke Meinen.
When booking through PayPal, you do not need to create an account. You can check out as a guest and pay via credit card. If it doesn't give you the option, you may already have a PayPal account linked to your email so please sign in.