Description
Arduino Day is a 24-hour-long worldwide event – organized by our team and the community – where people interested in Arduino can get together, share their experiences, and learn more about the platform through all sorts of activities, tailored to local audiences. Participation is open to anyone, from young Makers and students to professional engineers and designers.
We invite you to join us in celebrating Arduino Day on Saturday, May 12!
Learn aboutmore and tinker with the Arduino micro-controllers and learn about building all types of devices with it. Bring your own laptop, Arduino, and breadboard. This is for anyone, at any level, to come and have some fun tinkering, learning, and showing off your own projects.
Agenda
10:00 - 10:30 - Meet and GreetWelcome and introductions.
10:30 - 11:00 - Welcome and introductions.Presentation "What is Arduino and what can you do with it"
11:00 - 11:30 - Presentation "What is Arduino and what can you do with it"
11:30 - 12:30 - Demos
12:30 - 13:30 - Show and Tell
13:30 - 16:00 - Learn and play with Arduino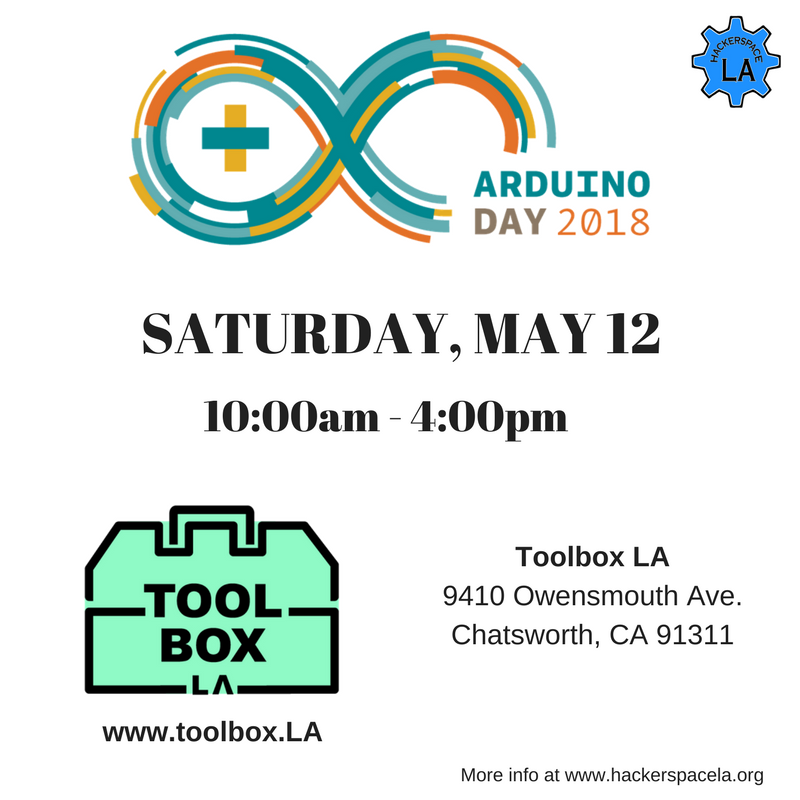 Organizer of Arduino Day 2018
Hackerspace Los Angeles is an open-access workshop that serves people in the San Fernando Valley area of Los Angeles, CA. We provide the equipment, classes and personal help to a membership community that allows them to prototype and develop any idea/project they can imagine.
We focus on developing and fostering a creative community of hands-on individuals, and providing them with the tools they need to succeed. The location will have equipment for welding, metalworking, woodworking, plastic-working, couture, electronics, programming and many other skill sets. There will be regular classes over these areas that will train people to safely work with this equipment and how it can be used to realize their ideas.