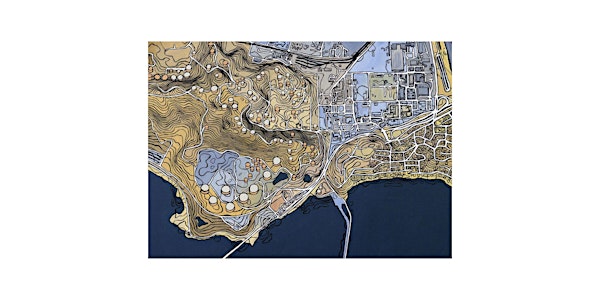 Architectures of Extraction: A Just Transition Dialogue
Lecture by Bz Zhang, with respondents Ratha Lai and Shreya Shankar
By California College of the Arts
Date and time
Thursday, March 2 · 5 - 7:30pm PST
Location
California College of the Arts 450 Irwin Street San Francisco, CA 94107
About this event
Join us for a lecture and dialogue between Bz Zhang, Ratha Lai, and Shreya Shankar, who each bring stories of building and unbuilding, using tools of architecture and organizing in service of climate justice movements, particularly from the vantage point of the five refineries in the Bay Area as sites of extraction and resistance. While acts of settlement and extraction are necessarily sited and embodied violences (pipelines through ancestral sites, refineries along beaches, wells opposite windows, chemicals in lungs), the extents of their impacts transcend borders, creating transnational frontlines, connected through global struggles for land, air, and water sovereignty. Meanwhile, the scales, forms, and boundaries of these sites are often intentionally obscured and thus difficult to dismantle. Using Richmond and California as focal points in a planetary network of petrochemical urbanisms, this conversation aspires to unveil past and present representations of urban sites of extraction, the role of architecture's complicity, and possible futures—including possible future design practices—as informed by contemporary climate justice movements. Through analysis and discussion of these sites, in service not of development, but climate justice and frontline communities themselves, our conversation centers community expertise in defining next steps for just transitions.
Bio
Bz Zhang is an architect and artist based on unceded Tongva land (so-called Los Angeles). They are a core organizer with the Design As Protest Collective and Dark Matter U and a licensed architect in California. Their design and research practice wonders aloud about representations of violence and the violence of representations by asking questions both using and about disciplinary tools of art and architecture. As a project manager with the Los Angeles Neighborhood Land Trust, they help to facilitate the community-led cultivation, restoration, and stewardship of land into public green space in historically under-resourced neighborhoods. Bz holds degrees from the University of California, Berkeley and Brown University. In their free time, they look for birds and trash in the Los Angeles River.
Ratha Lai is the Founder and Executive Director of Critical Impact Consulting. Critical Impact Consulting consults with community organizations and government agencies in solving their critical problems. Ratha is a first generation Cambodian-American. Having grown up in a refugee household and experiencing poverty firsthand at a young age propelled him to develop a career in social justice. When attending Cerritos Community College outside of Los Angeles Ratha cultivated a passion for social movements that lead to studying power, linguistics and social theory. Ratha transferred to University of California, Berkeley, where he was able to study under some of the best minds, and developed a theory of change that has been tested and improved over a decade of working in high profile social justice campaigns and initiatives. He has built several coalitions, passed landmark policies for air quality and environmental justice and has helped clients in their efforts to dismantle mass incarceration, rapidly respond to the COVID-19 crisis by disseminating important information to underrepresented communities, bring awareness to the Amazon rainforest, and put together winning strategies for grassroots political campaigns.
Shreya Shankar is a Worldbuilder living on unceded Ohlone Land in Huichin, Oakland, CA. Raised in the Bay Area on stories spanning continents and cosmologies, Shreya has been a chimera for as long as she can re-member. She graduated from UC Berkeley with a B.S. in Environmental Policy & Urbanism in 2014 and has been active across city planning, environmental policy, art and organizing in the Bay Area since 2011. Shreya has served as an Executive Director of a climate action nonprofit, Project Manager of Oakland's first resident-led neighborhood planning effort, and has emerged an alchemist of the built environment. Currently, Shreya Shankar is the Founder and Director of Sacred Rivers Institute (SRI), and graduates from CCA this Spring with a Masters of Architecture.
Image Credit: Detail from Bz Zhang, Crude Neighbors: Chevron Refinery, Richmond, California, 2022, acrylic on canvas, 36 x 36 inches.