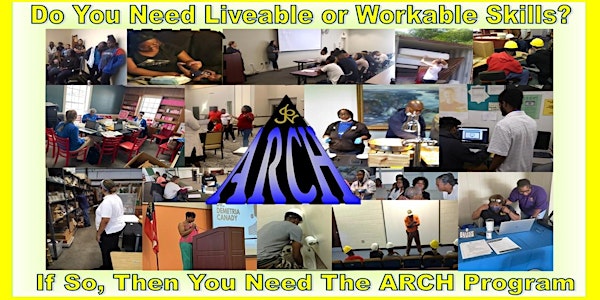 ARCH Transition (BRIDGE) Program
The ARCH Program is the BRIDGE to success. If you or someone you know need extra help maintaining or training for a job, call ARCH today!
About this event
ARCH stands for Achieving Reachable Challenges & Heights. The ARCH Development Team will be hosting weekly information sessions to see if individuals qualify for our program.
The Arch Program was developed to help underserved teens and young adults gain needed services and trainings. The ARCH program has evolved over the years which has allowed us to include more underserved individuals. The program allows individuals the opportunity to compete as they enter the workforce with confidences knowing what's needed for the job they are applying for. The ARCH (BRIDGE) Program ensures that everyone who completes our program will have all of the tools needed to become self-sufficient, productive, knowledgeable, and employable in their communities.
As stated above our program has grown to include more underserved populations, these are but not limited to: Anyone 14 years and older and also young veterans, but our priority ages are what we consider the transition ages (16-24).
SO WHO ACTUALLY QUALIFIES?
Anyone that qualifies through GVRA, if you have dropped out of school, was or is involved with DJJ or a teen or adult on probation, in a GED program, wanting to get back in school, can't find or maintain a job, in foster care or have aged out of foster care, graduated with an IEP, or 504 status, has a learning disability,…..
Below you can see more of what we have to offer, or you can visit our webpage at: https://www.thejpnnetwork.com/express-home-program and follow the link to the ARCH Program or go directly.... https://www.thejpnnetwork.com/arch-programs
Register and let us see if we can help you bridge that gap to success.