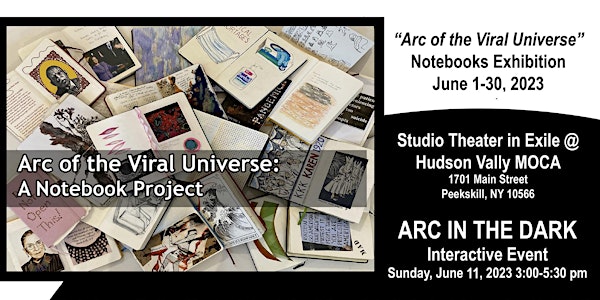 ARC in the Dark Interactive Event
ARC in the DARK: Engaging with the "Arc of the Viral Universe: A Notebook Project"
By Studio Theater in Exile
Date and time
Sunday, June 11 · 3 - 6pm EDT
Location
Studio Theater in Exile 1701 Main Street Peekskill, NY 10566
About this event
Organized by artist, Carla Rae Johnson in collaboration with Arc of the Viral Universe "Arc-ists," and with Studio Theater in Exile at Hudson Valley MOCA 1701 Main Street, Peekskill, NY Interactive Event: Sunday, June 11, 2023 - 3:00 - 5:30 pm
Participants will share a real-time experience of turning and reading notebook pages via a large-scale projection in the theater. Notebook creators ("arc-sts") will offer insights into how these notebooks illuminate their unique experience of the turbulent months of 2020/2021.
Then, just as during the early days of the pandemic, we will find ourselves in total darkness!
Participants, in turn, will use a small light to illuminate their notebooks through reading and descriptions of the imagery. The audience will be invited to join in, sharing from a notebook they have chosen.
"Arc of the Viral Universe" notebooks exhibited at a recent venue.
Notebooks created by:
Karen Allen - Inez Andrucyzk - Anne E. Bruce - Jo-Ann Brody - Angela Carrozza - Laurel Garcia Colvin - Linda Cunningham - Patricia Dahlman - Maria DeLaney - Beth DeWitt - Maureen Dillon - Flori Doyle - Linda Jean Fisher - Marcy B. Freedman -Wendie Garber Bonnie Glauber - Steve Jacoby- Claudia Jacques - Carla Rae Johnson - Barbara Lipp - Mary McFerran G. Ray Mak - Brook Maher - Willie Marlowe - Susan Obrant - Amie Oliver - Bonnie Peritz - Francine Perlman - Pearl Rosen Golden - Cristina Ramos-Payne - Jacqueline Rivera - Sharon Rubinstein - Ann Shapiro - Devin Siglock - Barbara Suggs - Peg Taylor - Lavinia Wiggins Dava Frog Wing
About the organizer
Our mission is to work with playwrights from inception to production to bring their voices to the fore. We also work with visual artists, storytellers, musicians, poets and writers to integrate theater/performance with other genres. Our goal is to create dialogue - with audiences, between creators, and bring forth the lesser known artists in our community.