Description
Dense Networks: The Connected City is the only conference that converges the key technologies transforming the way we live and work. The Internet of Things (IoT), Wi-Fi, Distributed Antenna System (DAS), Small Cell, Radio Access Network (RAN), cloud and fiber solutions are all critical to competitive advantage across multiple industries. The Connected City brings together how these technologies will disrupt government, education, transportation, utilities, public safety, as well as our offices, homes and cars.
Event Summary
The Dense Networks conference can be experienced as a 1 or 2 day event. The conference will provide the critical business models, technology architectures and action plans necessary to compete and win in 8 markets.
Enabling IoT in the Connected City (Day 1)
Focuses on the dynamics and the technologies enabling the development of the Connected City. We look at the critical markets that are essential to managing a city.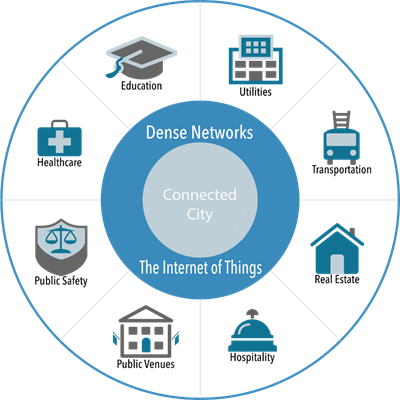 We'll focus on the core network technologies enabling greater connectivity and capacity. IoT, Wi Fi, Small Cell, RAN, IP, and M2M.
Keynotes from Verizon, Small Cell Forum, and Summit Broadband will highlight a day featuring expert panelists, interactive polling, and breakout sessions called Solutions Exchanges.
Key Topics Include:
How Much Bandwidth is Enough?
Preparing for the Internet of Things
Public and Private Cooperation to Enable Dense Networks
Funding Dense Networks
Building Dense Networks in Public Venues
Market Focus: The Connected City
Transportation, Public Safety and Utility Networks
Dense Networks for Competitive Advantage in Hospitality (Day 2)
Orlando has over 62 million tourist visits per year. UCF is the leading School focused on the Hospitality Industry. Experts from leading Hotels and Technology companies will discuss and present the technologies that are transforming the Hospitality Industry. The number one source of complaints in Hospitality venues today is poor Wi Fi service. IoT will eventually run most of the environmental systems, door locks, and supply chain functions. This conference will bring together the best and brightest minds to discuss the Business Models, Technology Architectures and Action Plans that will enable the Hospitality Industry to address the sweeping changes that bandwidth, mobility and consumer behavior are driving.