ADIDEMODAY2023 applied. Ticket(s) unlocked.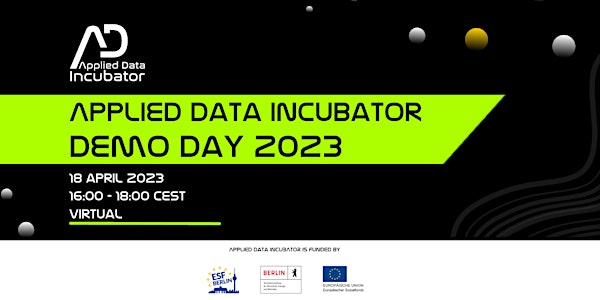 Applied Data Incubator Demo Day 2023
Save the date for the Applied Data Incubator Demo Day 2023! Join our startups from Cohort #2 as they pitch their data-driven solutions.
By Applied Data Incubator
Date and time
Tuesday, April 18 · 7 - 9am PDT
About this event
15 entrepreneurs from around the world and 6 months of immense work to realize their deep tech startup idea. It all comes down to one big day, where they will showcase their progress and data-driven solutions to the Berlin startup ecosystem. They are taking the stage on the 18th of April to appear on your screens live with nothing less than exciting innovations. Applied Data Incubator is proud to present 6 teams from its second Cohort! 🚀
Applied Data Incubator is publicly funded, independent, and able to focus on new and relevant solutions that need time to grow. We were born in Berlin and are happy to accelerate the "German Mittelstand."
What to expect?
The previous Cohort's Demo Day happened right on the Data Natives Conference 2022 -Europe's largest data science and AI conference- which delves deep into how data can transform economies and create opportunities. With an audience of thinkers, doers, and innovators - all are focused on shaping a brighter future. Our teams were right among them, pitching their data-driven ideas for the first time as they brought their startup dream into reality. Visit our YouTube channel to watch their Demo Day pitches.
This year, we are bringing selected investors & corporates into the Zoom conversation to challenge our teams which will be live-streamed via our channels.
P.S. Register now to stay updated with more announcements because we are set to surprise you!
Come and join us to watch the teams pitch live from Berlin!
Meet The Teams
Composite Vision is a startup aimed at the optimization of labor-intensive operations of quality control in aerospace, aviation, and energy.
We build AI-backed software which helps engineers to inspect parts and make decisions faster, easier and safer. Our software operates on developed CV/ML algorithms which save a significant amount of time and money, currently invested in intensive operations for inspection of material structure such as ultrasound testing or visual inspection for defects.
Energy costs down, Green energy up – with one click
Supergy helps construction companies, festival operators, and many others to optimize their power supply. By reducing energy waste and integrating green technologies, our AI-fueled platform significantly drives down costs while paving the way to an electrified, sustainable future.
Startups / Investors Quick & Easy Match
Imagine a Google Maps vertical and specific about Startups Ecosystem. The B2B Matchmaking Platform for Startup Founders, Corporates and Investors, in your specific Country/Sector. At the moment, we have already collected more than +52.000 Startups and +5.500 Professional Investors, well organized in +50 Verticals from +120 Countries.
Doze provides comprehensive digital wound care management solutions for patients.
Patients with wound injuries need to endure a lengthy and painful healing process, which often impair their daily lives. Any development in reducing the healing time would greatly improve their well-being. Doze develops digital tools to track the wound healing progress and provide personalized treatment recommendations for a groundbreaking wound care product, thus shortening the healing time.
We develop AI-driven tools for creativity, mental health and neuroenchancement.
Quite often it's challenging to "tune-in" for creative tasks, and such work takes long time. Creative output (ideas) must be of good quality repeatedly, on everyday basis. Bringing together Science, Tech and Art we create software, what inspires creativity and enable people to optimize their mental states.
DeepFile allows you to find accurate answers to your questions by digging into your local drives and company network. And it does it in seconds!
DeepFile is on a mission to bring AI into your business private walls. When time is of the essence, finding information and files among your confidential data is the handbrake of efficiency. Forget keywords, just ask normal questions. DeepFile finds you the answer, so you can focus on what matter the most and boost your productivity.