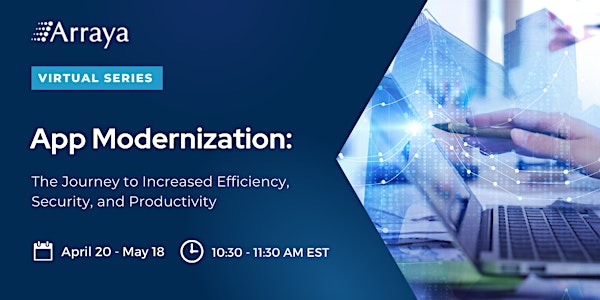 App Modernization Series - Session 3: Planning Your Data Migration Path
Join us for a virtual series, where we'll dive into the Application Modernization Journey.
About this event
While the journey to the cloud is a crucial step in a business's digital transformation, the true benefits lie in making the most of your applications. Application modernization takes your existing applications and programs them to align with your company's current and changing business needs. This practice extends the lifetime of your software investments, while allowing you to take advantage of the latest technical innovations.
The benefits of app modernization are clear and plentiful: increased scalability, more robust security, improved efficiencies, enhanced compatibility, competitive edge, and more. But how to get started, and which approach to take can prove to be a real challenge for organizations.
In part 3 of this 5-part series, we'll cover how to plan your data migration path. Topics will include:
Understanding DBaaS vs. IaaS
ETL/ELT functions
Data Migration Best Practices
Cloud Journey to a Data Lake or a Data Warehouse
Cloud-based Tooling
Analytics, Reporting, and Dashboards