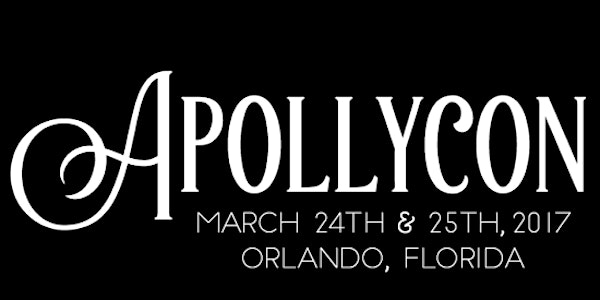 Apollycon 2017
When and where
Location
DoubleTree by Hilton at Universal 5780 Major Boulevard Orlando, FL 32819
Refund Policy
Contact the organizer to request a refund.
Description

Apollycon is an event for readers across all genres (including YA, NA, and Adult), which includes a signing event featuring authors and special guests, as well as an after party where readers and authors can connect.
---


The Apollycon 2017 hotel room block is open! If you'd like to book a discounted room, go here (http://bit.ly/Apollycon2017-Hotel). If by chance the rooms sell out, you may still contact the hotel to book rooms, but it may not be at the same discounted Apollycon rate. (Code is "APO" if you access the reservations page from the general site.)
---
Here is the schedule of events for Apollycon 2017:
Friday, March 24th, 2017
Time TBD (we will release this info closer to the event) - On-site Registration opens (to pick up badges, etc)
2pm-5pm - EXCLUSIVE TITAN SIGNING: This signing will be for TITAN PASS HOLDERS ONLY. All attending authors and vendors will be on site during this session as well. TITAN PASS HOLDERS PLEASE NOTE: This signing will end promptly at 5PM. If you still have books you need to have signed, you may attend the General Signing session on Saturday.
Saturday, March 25th, 2017
Time TBD (we will release this info closer to the event) - On-site Registration opens (to pick up badges, etc)
12pm-5pm - GENERAL SIGNING SESSION: This session is FREE to all attendees! Please keep in mind that we are asking that you still register to attend the event. All authors and vendors will be on site and available at this time. Some authors will be ticketed and/or have book limits (that may differ from the general book limitations which can be found in the FAQ section below), so please be prepared to adhere to the specified instructions. The signing will end promptly at 5PM, as we will need to clear the space for the after party which will be occurring later that evening. Also, we will be closing the doors to the signing area at 4:30PM. We will no longer permit attendees to reenter the room beyond that point.
8pm-11pm - DEMIGOD AFTER PARTY: You must purchase a Demigod pass in order to attend the after party. (This is included with both the Titan AND the Apollyon pass, so you won't need to purchase 2 separate passes.) The party will include:
1,001 DARK NIGHTS GIFT BAGS FOR THE FIRST 300 PEOPLE! – Be among the first 300 people to arrive, and you will get to take home a bag filled with goodies!
MINGLE WITH YOUR FAVORITE AUTHORS! – Featured authors & cover model(s) will be in attendance!
PHOTOBOOTH FUN – We will have a photo booth with fun props where you and your friends can capture the fun!

HIT THE DANCE FLOOR WITH YOUR FRIENDS! – We will have a DJ bringing the tunes!

GIVEAWAYS, GIVEWAYS, GIVEAWAYS! – There will be chances to win gift cards, an iPad, a Kindle Fire tablet, signed books, and more throughout the party!
---


**The Saturday general signing will be FREE for all attendees, but it is important that all attendees have a registered ticket through this eventbrite page.
**For additional information regarding this event including attending authors & vendors, check out the
Apollycon website
, or the FAQ's below.
---
1.) The Saturday general signing is free, do I still need to register?
YES. If you solely wish to attend the Saturday signing (which is FREE), we are still asking that all attendees register for a general signing ticket.
2.) Are there ID requirements or an age limit to enter the event?
Plan to bring your ID with you when picking up your registration on site. <--This will apply to those of you purchasing a Titan, Apollyon, and/or Demigod pass. Also, there will be a bar serving alcoholic beverages at the after party, so be sure to bring your ID in the event that you wish to purchase drinks.
3.) What are my transport/parking options getting to the event?
There will be on-site PAID parking available at the venue hotel.
4.) What are the book limitations?
You may bring as many books from home as you'd like, but you can only get 5 books per author signed at a time, and you'll be asked to go to the back of the line to get any additional books signed by the same author. **Please note: There may be some authors that have a different book limit (less than 5), but we will make a formal announcement on the Apollycon site/social media closer to the event.
5.) Is my registration/ticket refundable/transferrable?
All paid passes/registration will be FULLY REFUNDABLE until January 1st, 2017. Beyond that point, it will be transferable (so you can resell your pass to another attendee) should you no longer be able to attend.
6.) I plan to sign up to volunteer. Do I still need to pay for a pass?
YES. If you are interested in getting the swag/items that comes with the Titan or Apollyon passes, you must still purchase the correspoding pass. If you purchase the Titan pass, and are selected to be an Apollycon volunteer, you will still be granted access to the FULL Friday signing that comes along with it.
7.) Can I purchase books at the event?
Yes! Books-A-Millon will be onsite selling books. (Hours of operation will be posted closer to date of the event.) Self-published titles will be sold by the author at their respective tables, at the author's discretion. As we get closer to the event, we will provide a list of books that will be available for purchase at the event. **Please note: There may be limited titles/formats available through the bookseller, so if you have specific titles you'd like to have for the signing, your best bet is to purchase them before the event.
8.) I want to buy a Fast pass, where can I get it?
Though we previously advertised a Fast Pass option, we decided to remove it as we want to give all attendees an equal amount of time within the signing area during the Saturday signing.
9.) Where can I contact the organizers with any questions?
You can reach the Apollycon 2017 event organizers (Steph & Hannah) using the messaging options on the Apollycon social media pages, or at apollyconevent[at]gmail[dot]com.
For more FAQ's, check out the
Frequently Asked Questions
page on the Apollycon website.