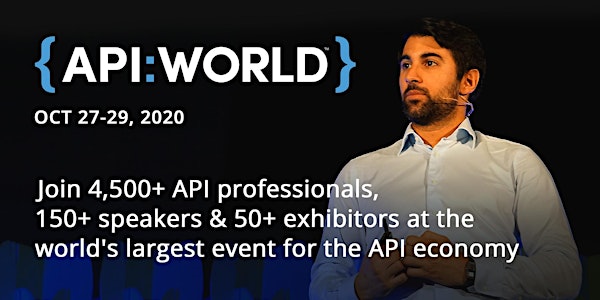 API World 2020
API World is the world's largest event for the API Economy. Oct 27-29, 2020. All-virtual.
About this event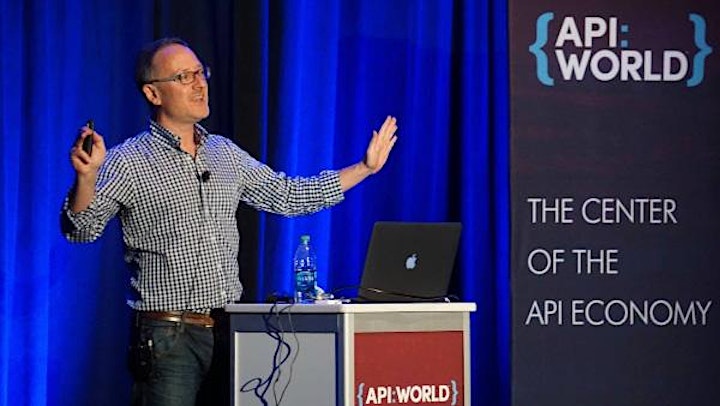 API World 2020 | October 27-29, 2020 | All-Virtual
API World is the world's largest API and microservices conference. Now in its 9th year -- it will bring together 4,500+ technical professionals, engineers, and integration partners will come together to learn, network, and build the API economy — with 150+ speakers and over 300 hours of content.
With 3 conferences inside: the API Lifecycle Conference, the API Innovation Conference, and Microservices World, our tracks & topics include: Microservices Architecture, API Design/Architecture, API Strategy/Enterprise Modernization, IoT & APIs, Service Mesh, Containers, Kubernetes, Emerging APIs, AI APIs, API Security, and more.
If you build or use APIs or microservices, you need to be at API World 2020. We created the conference and expo with the goal of organizing the API Economy -- and our mission is to be vendor-neutral and to facilitate connections, knowledge, trust, and business within the community of API providers, integration partners & API consumers.
Speakers
Keynotes & Featured Speakers include technical leaders & executives from: Salesforce, eBay, Kong, Visa, Adobe, RapidAPI, Red Hat, U.S. Bank, Citrix, ADP, Getty Images, IBM, Toptal, HERE, Monday.com and more. If you are an engineer,, or working for a startup or an enterprise that consumes or provides multiple APIs -- API World this is your event.
API World is produced and owned by DevNetwork, the organization for the world's developer community -- and producer of leading conferences for the developer, engineering & IT industries.
By registering for this event, you are opting into DevNetwork email updates and one-time email-based promotions from top-level API World 2020 sponsors including exclusive invitations to API World 2020 parties and partner events. These updates will notify you about API World 2020 news, as well as announcements about DevNetwork events and services. You can opt out of DevNetwork email updates at any time.
Refund Policy: Due to limited availability, DevNetwork cannot offer refunds once your tickets are purchased. If you cannot make the event due to unforeseen circumstances, you may transfer your ticket(s), or we will give you a credit towards a future conference of equal or lesser value. Thank you.