Enjoy a truly fun, unique, romantic event from the safety of your home. Don't fail VDay due to quarantine Book NOW for a night to remember ❤
About this Event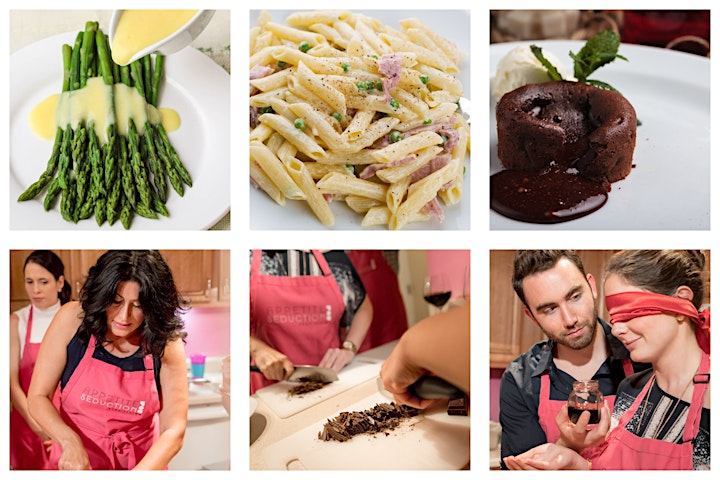 🧐 Not sure how to plan a truly fun, unique, romantic experience from the safety of your home this Valentine's Day? Scared at the thought of having to cook to impress? Even more scared of disappointing your sweetie (of not planning something cool)?
RELAX - we've got you covered! 💜 From setting the table to sautéing the shallots to romancing your lovey, we will guide you through the night in an interactive, entertaining, and intoxicating evening. Beyond just the cooking, we have some fun Valentine dinner ideas to impress your partner.
MENU- Appetite4Seduction's Valentine's Day Dinner Specials ❤️
Asparagus with Hollandaise Sauce
Penne Pasta with Baby Peas, Chicken, Prosciutto and a Parmesan Cream Sauce
Chocolate Lava Cakes with Ice Cream! CHOCOLATE, Diva of all Aphrodisiacs!
Clearly, the pandemic has forced us to explore new ways to make Valentine's Day fun this year. Don't let closed restaurants be the reason you fail this VDay.
Join us for an online romantic couple's cooking class! Stop searching for a Valentine's Day event and surrender to some Valentine's Day cooking.🙌🏻
You'll unlock the secrets to creating a sensual meal for two. Our goal is to teach couples that the first ingredient to any dish is love. ❤️
These dinner classes combine this main ingredient with aphrodisiacs to create a mouth-watering menu that will induce romance, stimulate seduction, and spark passion. 🍓
Throughout the evening, you'll discover how to prepare aphrodisiacs and understand their effect on the libido as well as their romantic history. You'll also awaken your five senses and understand how fiery foods can stimulate your sexual appetite.
Even better… this year, if you get all "fired-up" mid-menu… you're just steps away from the bedroom and can return to the class at any time!
WHAT'S INCLUDED?? 👍🏻
Live, virtual Valentine's Day Cooking Class (see date/time options)
Pre-Class Video "How to Set the Table to Stimulate Romance"
List of Ingredients
List of cooking gadgets, utensils and cookware needed for class (including Amazon links)
List of Sexiest Foods
Music playlist to get you groovin'
Link to the recorded class
Recipes to follow along with
WHAT WILL YOU LEARN? 💡
Knife Skills
What is an aphrodisiac
How foods can affect your body and your libido
How to have fun and experiment with food
What foods are sexy
How to choose cooking ingredients
DOES NOT INCLUDE 👎🏼
Any cooking ingredients
Any wine or alcohol - Baby, we are virtual- Make sure to buy some though!
Mandatory Mask… You make your own rules in your home 😊
VIRTUAL CLASS - FAQ
Any questions? contact@Appetite4Seduction.com
When do I receive the class details?
All details about your virtual cooking class will be sent to our attendees 1week before the live session. This email will outline what products you should buy at the store, what kitchen equipment, gadgets and utensils suggested to cook the meal, and details to access the webinar.
If you register closer to the event, we will send you the details within 24hours of the registration.
*IF YOU ARE NOT SEEING THESE EMAILS, PLEASE CHECK YOUR SPAM FOLDER. It may have been rerouted.
When do ticket sales close?
Ticket sales close at 12pm the day of the live event and cannot re-open once closed.
Will the class be recorded?
Yes! We record all our public classes and send them to all attendees following the live session. This is for anyone who couldn't make the live session, or simply want to review information from class.
Am I able to ask questions or interact with the class?
This is an interactive event. All throughout the session, Shani, the instructor will encourage participants to engage with her and the other guests by answering poll questions, asking questions and allowing participants to interact through the chat function.
More info: http://appetite4seduction.com/
Disclaimer: the video was obviously shot during one of our offline classes.