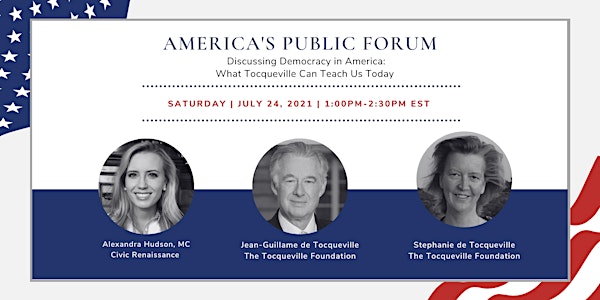 APF: Discussing Democracy in America: What Tocqueville Can Teach Us Today
A special America's Public Forum event, co-hosted by Civic Renaissance, the Lilly Family School of Philanthropy, and Braver Angels.
Refund Policy
Contact the organizer to request a refund.
Eventbrite's fee is nonrefundable.
About this event
On his yearlong visit to America in 1831, French aristocrat Alexis de Tocqueville drew insights on American life that have offered wisdom and inspiration to generations of Americans.
There is a reason that even today Americans across the political spectrum cite Tocqueville's many prescient ideas about the perils and promise of American democracy. Tocqueville was clear-eyed about his subject: he saw America's great strengths, as well as its great weaknesses, and drew conclusions that he thought could promote a healthy democratic life in his own beloved France.
There is virtually no aspect of American life that escape Tocqueville's keen observation: populism, localism, self-governance, civil society as counterbalance to excesses of American rugged individualism, the possible pitfalls of an increasingly wealthy middle class tempted by materialism and consumerism, the "habits of the heart" and citizenship that support democracy—and much, much more.
But who was Tocqueville the person? Who were the people and places that helped form him?
Join this conversation LIVE from the Tocqueville estate in Normandy, France—led by Alexandra Hudson of Civic Renaissance with two of Tocqueville's relatives, Jean-Guillaume de Tocqueville and his wife Stéphanie de Tocqueville—to explore Tocqueville's life, legacy, and hope for us today. John Wood Jr. of Braver Angels will give introductory remarks.
This conversation will focus on the personal side of this famous and great thinker, and also explore the work of the Tocqueville Foundation, led by his relatives, which seeks to preserve and promote his legacy today.
With the many challenges and questions facing American democracy today—with faith in our institutions and public life at historic lows—returning to Tocqueville's ideas can offer us not just instruction, but also hope.
This event is free and open to all. A recording will be available on Braver Angels's YouTube channel a few days after the event. (Feel free to register even if you can't make it and we'll make sure to send you the recording!)