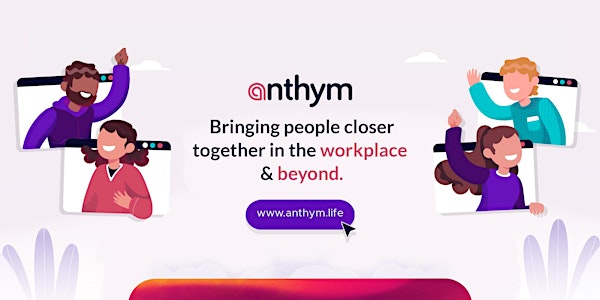 Multiple dates
anthym - New Hire Onboarding & Team Connection for a Remote-First Workplace
Are you ready to take a trip down the memory lane of your life? Music + Stories = Powerful Connection!
Date and time
February 27 · 11am - February 17, 2025 · 11:45am PST
About this event
Employee disconnection is one of the top drivers of voluntary turnover, and it costs employers more than $406B in lost productivity (and that's in the US alone). The rise in remote work has added to this problem and team leaders are looking for ways to create ongoing connection in a remote-first workplace. Welcome to the world of anthym!
The anthym Intro webinar will show you how anthym's unique connection framework - Evoke, Catalog, Share (ECS) - can bring your team together and help you eliminate unnecessary turnover, increase engagement, and boost productivity.
At the core of our ECS framework is a powerful combination of life memories coupled with inspirational media like music (Movies, Books, TV Shows & TED talks are additional options). This unstoppable recipe helps break down barriers between people, regardless of age, gender, ethnicity, religion or any other label, for that matter, and illuminates easy bridges for connection.
We will also show you how to use the anthym connection framework to increase the connectedness of your people, whether as part of a work team, affinity group, or any other type of organized group.
If music is the universal language of humankind, and the shortest distance between two people is a personal story, then anthym is the framework & experience that brings it all together.
Use Cases:
Testimonials:
"Deepest connection with colleagues I've ever experienced."
"anthym was so fresh & new - unlike anything else experienced in my 20-year HR career."
"anthym helped us connect on the deepest levels."
"A unique & highly impactful experience - highly recommend."
Agenda
Why Connection Matters - The Human Case
Why Connection Matters - The Business Case
5 Memory Intro - Overview & Use Cases