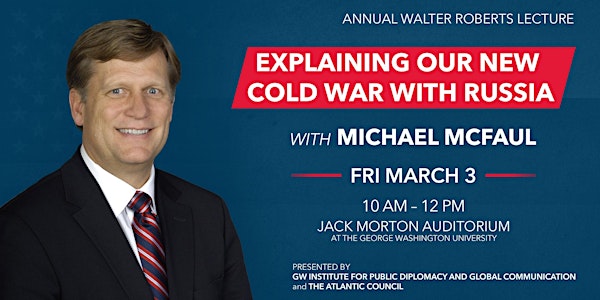 Annual Walter Roberts Lecture - Explaining Our New Cold War with Russia: Ca...
Event Information
Location
Jack Morton Auditorium, School of Media and Public Affairs
805 21st Street
Washington, DC 20052
Description
RSVP's now CLOSED! Livestream will be available at go.gwu.edu/livemcfaul from 10am.
Please arrive early, RSVP does not guarantee entry.
There will be no online waitlist.


---
Since 2011, the Walter Roberts Endowment has hosted an annual lecture with a prominent and distinguished foreign policy figure at GW. Free and open to the public, the lecture provides a platform for students, faculty, and public diplomacy practitioners to hear different perspectives on issues related to public diplomacy and foreign policy.
Our keynote speaker this year is Ambassador Michael McFaul, who will be presenting his lecture "Explaining Our New Cold War with Russia: Can Trump End It?", followed by a discussion moderated by David Ensor, veteran journalist and former director of Voice of America.
Abstract
U.S.-Russia relations have reached one of their lowest points since the end of the Cold War. Russia's intervention in Ukraine and Syria, public distrust, evidence of Russian interference in the U.S. election, and sanctions imposed by both sides all signal a growing rift in bilateral relations. This talk examines potential explanations for recent tensions, considers the implications of deteriorating relations, and analyzes potential changes in U.S. policy towards Russia under the Trump administration.
Michael McFaul is Professor of Political Science, Director and Senior Fellow at the Freeman Spogli Institute for International Studies, and the Peter and Helen Bing Senior Fellow at the Hoover Institution. Dr. McFaul served for five years in the Obama administration, first as Special Assistant to the President and Senior Director for Russian and Eurasian Affairs at the National Security Council at the White House (2009-2012), and then as U.S. Ambassador to the Russian Federation (2012-2014). He has authored several books, including Advancing Democracy Abroad: Why We Should, How We Can and, with Kathryn Stoner, Transitions To Democracy: A Comparative Perspective.
Foreign policy analyst David Ensor rode a Soviet tank from Jalalabad to Kabul as the Soviets began their withdrawal in 1988, and then returned to Afghanistan in 2010 as a senior US diplomat. Over three decades with CNN, ABC News and NPR, he reported from Moscow, Warsaw, Rome and Washington. Ensor was Director of the Voice of America (VOA) 2011-15.
Date and time
Location
Jack Morton Auditorium, School of Media and Public Affairs
805 21st Street
Washington, DC 20052