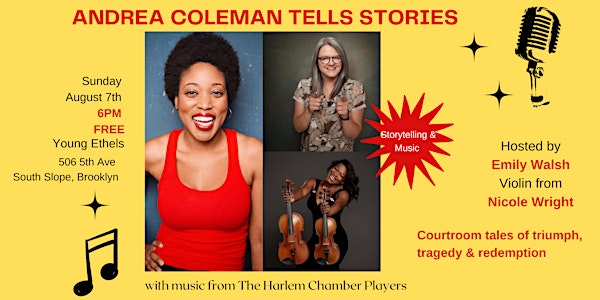 Andrea Coleman Tells Stories
Location
Young Ethel's
506 5th Avenue
Brooklyn, NY 11215
Attorney and Performer Andrea Coleman returns to the stage - this time as Storyteller. Come for laughs and courtroom comedy.
About this event
Andrea Coleman, host and creator of the wildly popular and critically acclaimed "Wack or Woke? Andrea Coleman Judges the Law" returns to the stage as storyteller. She'll be bringing her comic timing, legal acumen and black girl magic to audiences though the telling of tales from her life both in and out of the courtroom. The show will be hosted by stand-up Emily Walsh and will feature classical music from Nicole Wright of the Harlem Chamber Players.
There is no cover charge.
More About Andrea:
Andrea Coleman is a Brooklyn based writer, performer and lawyer originally from Virginia. She writes sketch comedy, standup comedy, screenplays and stage plays. Her Medium articles have been viewed over 750 thousand times. The law comedy show she created and stars in, "Wack or Woke? Andrea Coleman Judges the Law," has been featured in The New York Times, TimeOut NY, NPR and aired on PBS' All Arts Channel. Andrea has performed standup at Comedy Cellar, Comic Strip, Gotham and Caroline's. She's toured her standup at San Francisco Sketchfest, Women in Comedy Festival and Austin Sketch Fest. Andrea has written and executive produced 5 short films which have been Official Selections at16 Film Festivals. One of her shorts aired on BET and AspireTV.Andrea has practiced law for 15 years and has tried 30 jury trials. She's currently streaming on"HotHaus" with Tiffany Pollard and "Iconic Justice" with Willam on OutTV.