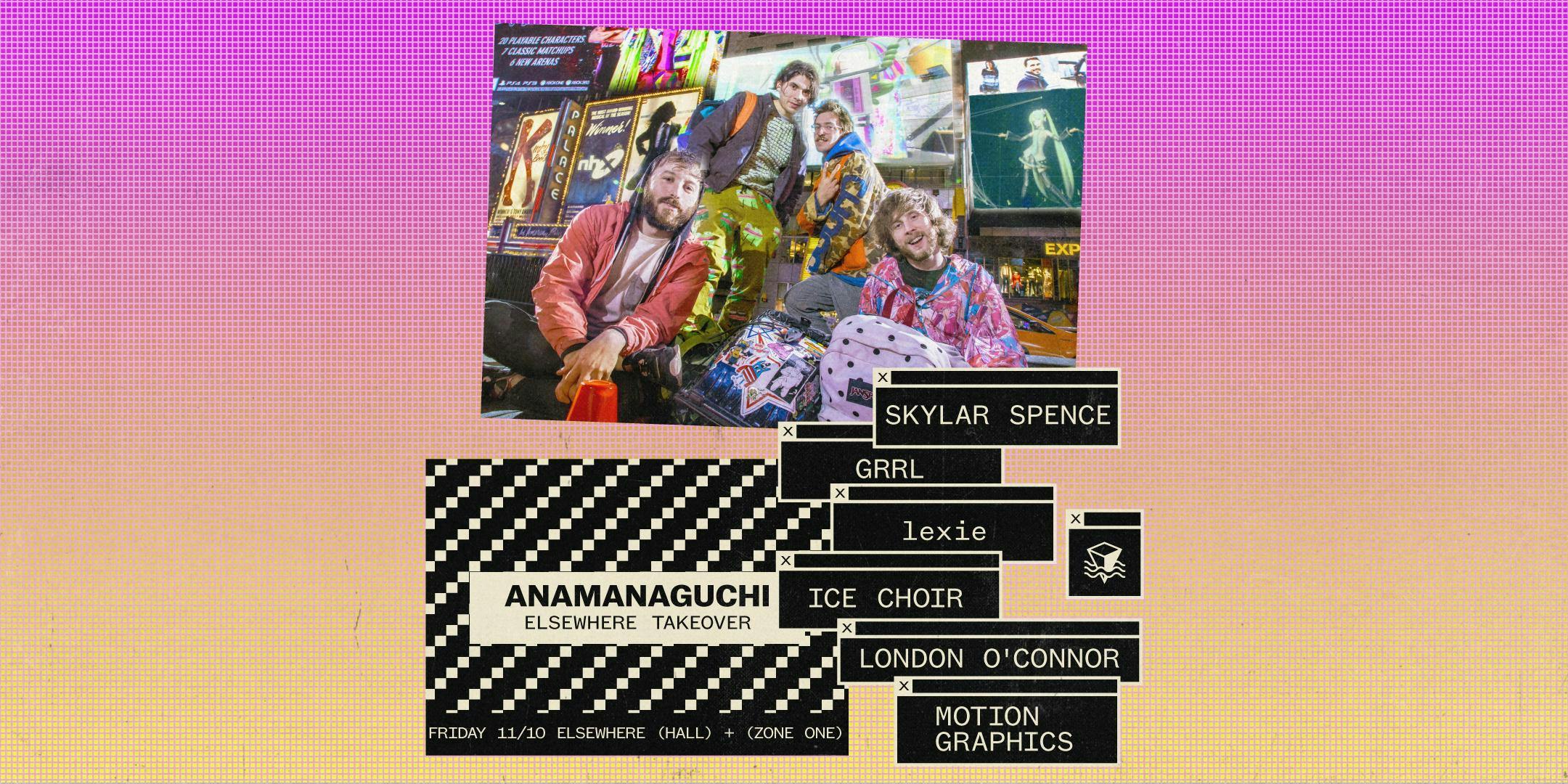 About this Event
Show: 6:30-10:30PM
Hay yall!
We're ready to show the first things from [USA], our new album. Since finishing Endless Fantasy, we've made a pop song, released a video game, and collaborated on tour with the world's first Vocaloid superstar. But underneath all of that work, we have been focusing on [USA]. The new album will have a new stage show, which should look & sound pretty different than our past.
Meanwhile our old classmates (& Anamanaguchi's first booking agents) Jake and Rami are opening up their new venue Elsewhere in Brooklyn, NY. We thought it could be fun to premiere some new material alongside their venue's debut. 
We always like to be directly involved with everything we do– putting together our own events.. whether it's a web-stream, club night, tour lineup, or being invited to program an entire museum. When we visited the still-under-construction Elsewhere, we immediately saw the potential for curating a whole event in that space... and that's how we came to the idea of doing an Anamanaguchi Takeover. 
We have a lot fun putting shows together featuring lots of different kinds of artists- instead of making lineups that "fit" or "make sense" (that is, are homogenous/boring). It's usually something no promoter would ever consider that's the most enjoyable. 
In the Hall we'll have Lexxie, a side project from one of our fav NYC bands Frankie Cosmos, and Ice Choir, fronted by Kurt Feldman of (ex-Depreciation Guild).  
In Zone One, we'll have Motion Graphics of Warp Records, and one of our fav DJs [GRRL] from North Carolina. 
On top of this, we have a few more announcements to come.
On top of that, we'll be live streaming the event through Twitch so that everyone who can't make it to Elsewhere IRL can still be there with us ;)
C u next month.
-Anamanaguchi