LexRex Communications' latest course is a one-hour introduction to creating effective video content
About this Event
LexRex Communications' latest course is a one-hour introduction to creating effective video content. Created especially for lawyers and law firm marketers, the session will be run jointly by LexRex founder and managing director, Victoria Moffatt and our ex-BBC broadcast journalist media trainer.
Why should you attend?
There are two very well recognised adages that 1. people buy from people, and 2. that they do this on the basis of knowing, liking and then finally trusting. But how do you get to know, like or trust people if you can't meet them?
We believe that video can help in this respect. Since lockdown in March, it has been really difficult to get out and create those new relationships, and to manage existing ones. Zoom and its ilk have been helpful, but we believe that video content has now truly come of age as an effective marketing tool.
Done really well, video content is, in many ways, more engaging than written. It brings an insight into an individual's personality, and allows them to showcase their expertise, talk about things that they are interested in and are passionate about, whilst also providing a more three-dimensional experience than other forms of content allow.
We believe that when people are looking for solicitors right now - when they are unlikely to be able to meet face to face - video content can help these potential clients to start the know, like and trust process more quickly. In essence, video can be an excellent marketing tactic if used well.
So if you want to start creating high quality video content that will help you to stand out from the crowd and build effective relationships, you should book onto this workshop.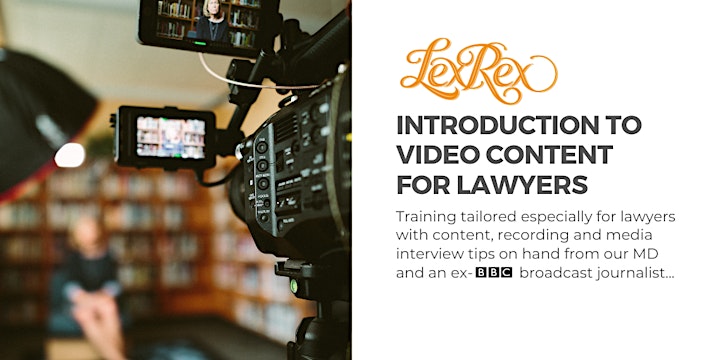 What will attendees get?
Insight and practical advice jointly led by LexRex managing director and founder Victoria and our former-BBC journalist media trainer, Fiona.
Hands-on advice on mobile video tech, backdrops, sound and light quality
Effective presentation tactics
Practical advice on planning and creating strong content
Strategic suggestions on how and where to use video content for law firm marketing purposes
In-session Q&A
Date and Time
Location
Refund Policy