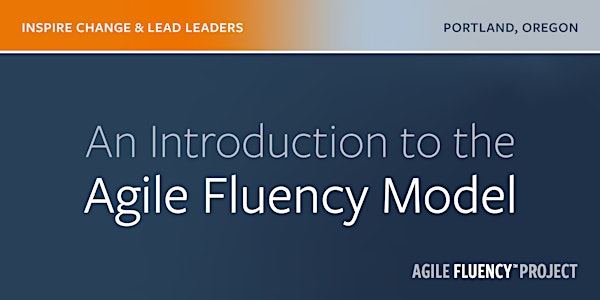 An Introduction to the Agile Fluency Model - February 21, 2020
When and where
Location
General Industry Building 100 North East Farragut Street, Studio #04 Portland, Oregon 97211
Refund Policy
Refunds up to 7 days before event
Eventbrite's fee is nonrefundable.
Description
Gain a deeper understanding of the Agile Fluency Model and discover the leverage points to power up your software development teams.
Start here to learn how your organization can use the Agile Fluency Model to guide organizational investment in growing teams' skills and capabilities. James Shore and Diana Larsen fashioned the Agile Fluency Model from their personal observations, deep practical experience, and collaboration with colleagues , as they envisioned a world where Agile is done well in every organization, where each team performs at a level of fluent proficiency that is fit to purpose.
This full-day workshop offers an immersion into the Model and uses of it in an organization over time. The Agile Fluency Game simulates two and a half years on a software development team that's adopting an agile approach for the first time. You'll learn the outcomes that result from investment decisions and learning efforts, leading to actionable insights that you can immediately apply in your organization.
---


Learning Goals
You'll learn:
• Why the Agile Fluency Model is a valuable "thinking partner" for assessing and enabling teams
• To recognize typical pattern teams follow as they gain skillful, fluent proficiency in performance
• How to focus investment in teams for the most business benefit
• When and how to work with Agile coaches and change consultants to increase team and business agility
What We'll Cover
• What is the Agile Fluency Model?
• Aligning delivery teams with your organizations' goals and needs
• How the Model helps teams develop and flourish
• A teamwork simulation for software delivery
• Takeaways you can apply to your real-world environment
• Improving teams and your organization with the Agile Fluency Lifecycle
• How to plan organizational investments that support a team's learning journey
• Using the Agile Fluency Suite in your organization
Who Should Attend
• Technical leaders and team members who seek team greatness
• Agile consultants and coaches who want to add to their toolkit
• Middle managers who want to develop skilled agile teams
• Senior leaders tasked with growing their delivery capacity and capability
• Executives who know that greater business agility and marketplace resilience depends on software production
• Licensed Agile Fluency Facilitators who want to extend the depth of their experience with the Model (and take away a workshop model to use with their clients)
Overview of Content Flow and Timing
(6.5 hours + breaks and lunch)
• Registration and "breakfast" snacks (30 minutes) 8:30 am
• Welcome and Introductions (30 minutes) 9:00 am
• Overview - Agile Fluency Model - video? (30 minutes) 9:30 am
• White Paper/eBook (Q&A) (15 minutes) 10:00 am - Prerequisite: Come with questions in mind
~ With Business Value/Benefits in Mind - Handout (15 minutes) 10:15 am
~ With Your Team in Mind - (15 minutes) 10:30 am
Break (15 minutes)
• Preparing to Play the Game (30 minutes) 10:45 am
• Play the Game (90 minutes) 11:15 am
Lunch (60 minutes) 12:45 pm
• Debrief the Game / Retrospective (60 minutes) 1:45 pm
Break (15 minutes)
• Agile Fluency Lifecycle (iterative Improvement Cycle?) (30 minutes) 3:00 pm
• Investing in Teams , Planning & Takeaways (45 minutes) 3:45 pm
• Close & Goodbyes + Group Photo (15 minutes) 4:30 pm
• Slack (15 minutes)