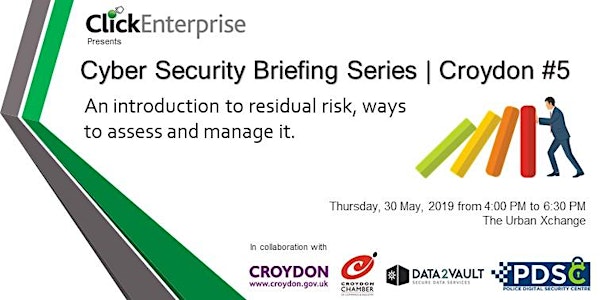 An introduction to residual risk, ways to assess and manage it
When and where
Location
The Urban Xchnage 1 Lansdowne Road Croydon CR9 2BN United Kingdom
Description
Cyber Security Briefing #5
An introduction to residual risk and ways to assess and manage it
You can never reduce a risk to zero, whether it's a Cyber threat or protecting critical airspace from Drones. In the high hazard industries that make up the critical national infrastructure, the risk is well understood and quantitively assessed. These methods and techniques are transferable and are being used in the Cyber sector today. In this session, a leading Risk Consultancy will introduce the concept of residual risk and explain how it can be assessed and managed, and a leading Insurance expert will explain the pros and cons of transferring the residual risk irrespective of the size of the business, or the type of Cyber threat.
Venue: Urban Xchange Bar, 1 Lansdowne Rd, Croydon CR9 2BN
Date: Thursday 30th May 2019 16.00 to 18.00 then networking
Who should attend: Directors, Partners, Business owners, IT Managers from all industry sectors
Agenda:
16.00-16.30 Arrive and registration
16.30-16.35 Welcome and introduction. Carol Squires, Economic Development Manager, Croydon Council
16.35-17.05 Residual risk, what is it and how can it be assessed? Jas Sidhu Singh, CEO, Corporate Risk Associates. Jas is a Nuclear Physicist with over 20 years of risk experience in the Nuclear and high hazard industry. Jas will introduce and explain residual risk and its assessment as it applies to Cyber Security.
17.05-17.35 The transfer of residual risk. Rajan Amin, CEO, Coversure Croydon. Rajan will discuss the various ways that the liabilities from residual risk can be transferred through the use of insurance. There are many types of Cyber related policies and Rajan will simplify what can often be a confusing market
17.35-17.45 Q & A panel. Jas and Rajan will answer questions about residual risk and its management
17.45-18.00 Finish & networking