Refund policy
Contact the organizer to request a refund.
Eventbrite's fee is nonrefundable.
Sales Have Ended
Registrations are closed
This workshop is filled. Kindly add your name to the waitlist and if a space opens up you will be contacted automatically. Also, you will be notified of future Brush Painting workshops by Leigha Nicole. Thank you for your interest in Brush Painting!
An in-depth Chinese Brush Painting 2-class series exploring the timeless subject of bamboo! 2 Sundays - 5/22/22 & 6/5/22 @ 12-3pm MDT.
About this event
***PLEASE NOTE - If you are signing up after May 16th, you must already have your basic supplies as Oriental Art Supply's shipping takes 3-5 business days to reach most of the US and so, you might not recieve your art supplies for the first class. You will though, have time to order the colors needed for the 6/5/22 class***
Bamboo is one of the 4 basic subjects studied in traditional Chinese Brush Painting called 'The Four Gentlemen' and represents the lush summer season. The resiliance and upright qualities of the bamboo are wonderfully symbolic and make it a perfect subject to promote inner strength. Bamboo in Chinese culture is said to embody the elegant qualities of a "perfect gentleman".
In this 2 class series, we will cover the basics of brush technique, ink application on rice paper and how to create simple and beautiful Bamboo compositions. The first class on 5/22 we will be painting a windy bamboo subject in just ink and then we will expand into the world of color for the second class 6/5 and together we will create a bright bamboo composition in different shades of green.
These step-by-step classes are specifically designed for beginners and will be taught at a gentle pace with lots of time to practice the various brush strokes. These classes also include weekly homework critiques to provide private customized learning and lesson integration. Attendance is limited to ensure maximum personal attention.
If you are new to Brush Painting and need to purchase supplies, here are 3 supply SETS from Oriental Art Supply to choose from for this class series:
https://orientalartsupply.com/products/intro-brush-painting-set
https://orientalartsupply.com/collections/leigha-nicole/products/beginners-set-for-leigha-nicole
https://orientalartsupply.com/collections/leigha-nicole/products/artist-set-for-leigha-nicole-recommended
There are additional accessories and recommeded study books by Dr. Ning Yeh available on Leigha's teacher page: https://orientalartsupply.com/collections/leigha-nicole .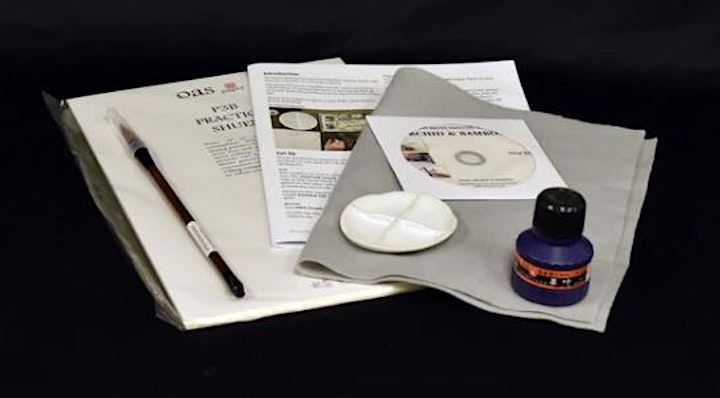 The supplies included in the most economical "Intro Brush Painting Set" are:
An Orchid Bamboo brush, 48 Practice Shuen sheets of handmade rice paper, Practice Ink, felt for use underneath your paper, a mini pie saucer for your ink and a bamboo instructional DVD from my teacher, the Emmy Award winning master painter Dr. Ning Yeh for reference and practice before and after the workshop.
The Beginner and Recomended Sets include 4 brushes (Pre or Premium brushes) consisting of Happy Dot, Small Flow, Large Flow and an Orchid Bamboo brush and a custom roll of handmade Practice Shuen, Jade Plate and Pi paper. Full accessory sets either Premium or Budget (Felt, porcelain segmented water bowls and flower plates and spray bottle) are sold separately on Leigha's teacher page: https://orientalartsupply.com/collections/leigha-nicole
*** If you are using your own materials, feel free to get in touch at leighanicole@gmail.com before the workshop to be sure you will have all that you need to participate.
Since these classes will be hosted over the Zoom platform, you will need a computer or laptop and a solid internet connection. Upon registration, you will receive specific instructions regarding Zoom log-in, classroom link, etc.
I hope you will join me for these 2 afternoons of fun and creativity!