Join SACC-NE Students & Young Professionals when we gather companies with Scandinavian ties operating in the US in this unique career event!
About this Event
Hear first-hand from a high-level panel of executives from a variety of industries and globally renowned companies as they share their experience, tips, and advice on topics such as:
- Recruiting trends in the pandemic era
- How to best position yourself in the current hiring environment
- Values companies are looking for in young talent
- What it is like to work for Spotify, EF or Quinyx
Are you a student or a young professional looking for a new opportunity or curious about what hiring managers look for in applicants – then this is the event for you! Hear from what might be your future employer and learn the tools you need to maximize your chances of securing a job with them.
LEARN, ASK, and GET INSPIRED are the keywords for this engaging and inspirational career event experience.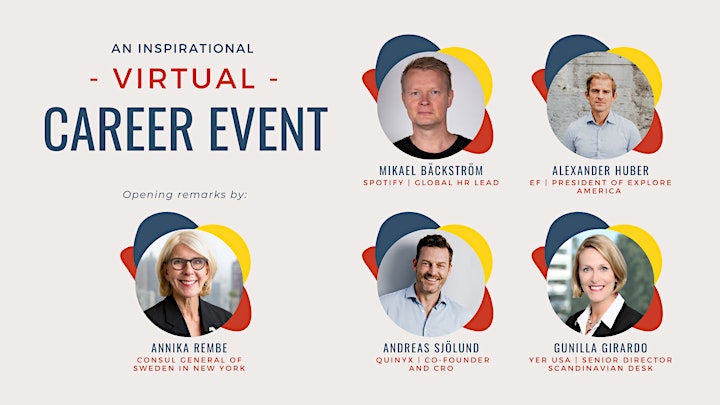 Opening Remarks from Annike Rembe, The Consul General of Sweden in New York.
About Annika
Annika Rembe is the Consul General of Sweden in New York. Previously she was the Director-General and President of the Swedish Institute, a public agency that promotes interest and trust in Sweden around the world.
Annika Rembe has held several high-ranking positions in the Swedish Government Offices, including Commissioner-General of the Swedish Committee for Sweden's participation in Expo 2010 in Shanghai and Director of Market Communications & Public Affairs at the Invest in Sweden Agency (now part of Business Sweden).
She graduated from Stockholm University with a Master's Degree in law.
JOINING COMPANIES
Spotify, Mikael Bäckström - Global HR Lead
About Mikael
Mikael Bäckström is a part of the Global HR team at Spotify. He serves as the Global HR Lead and in his role, he supports the Spotify Freemium Business Unit.
Previous to this role, he served as the HR Lead for EMEA. He also supported other organizations like the People Global Unit (including HR, Workplace services and Strategy/PMO), Finance, Legal, Content & Markets and Premium functions.
Before joining Spotify in 2014, he served as the Global HR for DigitalRoute, and Head of HR for Klarna AB. Mikael graduated from Stockholms University with a Bachelor's Degree in Sociology.
About Spotify
Founded in 2006 by Daniel Ek and Martin Lorentzon. When Spotify launched in 2008, they transformed music listening forever. Today you can discover, manage and share over 70 million tracks, including more than 2.2 million podcast titles.
Spotify is the world's most popular audio streaming subscription service with 345 million users, including 155 million subscribers, across 170 markets.
EF, Alexander Huber - President of Explore America
About Alexander
As the President of Explore America, Alexander is responsible for EF's North American Tour business. In this role, he helps create educational travel experiences that impact the way students think, feel, and act, together with schools and teachers all across the US.
Before joining EF in 2020, he served as the CEO at TUI Nordics. In his role, he was responsible for all TUI businesses in Sweden, Denmark, Finland and Norway. Alexander graduated from Uppsala University with a master's degree in Business Administration. He also holds degrees from La Trobe University, Eberhard Karls Universität Tübingen, and IMB Business School.
About EF - Education First
Founded in 1965, EF Education First combines language training with cultural exchange, academic achievement and educational travel to deliver courses and programs that transform dreams into international opportunities. Their mission is to give confidence and freedom to people of all ages, nationalities, and backgrounds.
The company has four divisions including EF Language & Schools, EF Cultural Exchange, EF Real Estate Holdings, and EF Educational Travel. They operate in 114 countries in Europe, North and South America, and Asia.
Quinyx, Andreas Sjölund - Co-Founder & CRO
About Andreas
With over 18 years of experience within the workforce management industry, Andreas is a CO-FOUNDER and CRO at Quinyx. In his role, he helps building high-growth Global Sales Teams, Business Development and Solution Selling.
Before joining Quinyx, Andreas served as a Vice President at BraveTime. He also has a background in marketing and played professional ice hockey in the US. He has degrees from both Uppsala University and Norweigan School of Economics.
About Quinyx
Quinyx is a Workforce Management solution that empowers the workforce in service industries to make people and businesses grow.
Today, Quinyx helps more than 850 companies around the world to optimize schedules with AI forecasting, make time reporting more efficient, reduce costs, stay compliant and engage with employees.
YER USA, Gunilla Girardo - Senior Director Scandinavian Desk
About Gunilla
As the Sr. Director of Scandinavian Desk at YER USA, Gunilla Girardo supports Scandinavian companies by connecting Europe's best companies with America's best talent. Her clients can be found in a variety of industries including high tech, environmental services, and agriculture. She also serves as a Senior Advisor at Scandinavia.
Before joining YER USA and Scandinavia in 2017, she served as the President of SACC-USA. She also served as President & CEO for Mentor Foundation USA. Gunilla Graduated from Gothenburg University with a Bachelor's Degree in English, Communications, and Pedagogics.
About YER USA
Founded in 1987, YER is an international recruitment agency with offices in the United States and The Netherlands. YER finds high-quality candidates with bachelors and advanced degrees to fill permanent and temporary positions at mid to senior levels.
YER USA, Inc. was established in 2007 as a result of international expansion and through existing partnerships with global clients. From its offices in Atlanta, New York and Chicago, they cover the entire continental United States, as well as Canada and Mexico.
Zoom link to the event will be sent out the day before.