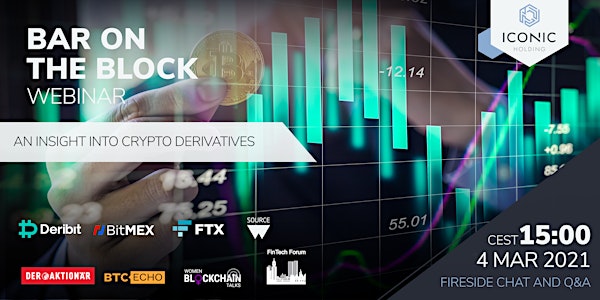 An Insight Into Crypto Derivatives
Join us for Bar on The Block webinar on Thursday, March 4th to learn more about cryptocurrency derivatives.
About this event
UPDATE: The video recording of the panel discussion can be found here.
In this webinar, we'll discuss one of the oldest forms of a financial contract- DERIVATIVES! We'll deep dive into the types of crypto derivatives products, their common forms, policy, and regulatory regime. We'll have an in-depth discussion on how derivatives are used in crypto trading, what kinds of Crypto derivatives can be traded both on traditional exchanges and regulated crypto exchanges, the biggest risks that traders face, and why investor interest seems to be surging in crypto-derivatives.
In collaboration with Börsenmedien AG, BTC-echo, Fintech Forum, and Women in Blockchain Talks, Iconic Holding brings blockchain entrepreneurs, industry experts, and innovators together to discuss the latest market developments, share their expertise and insides about the latest important topics aiming to educate and help people stay up-to-date on the latest crypto market trends.
TOPIC: An Insight Into Crypto Derivatives
SPEAKER PROFILES
- Sam Bankman-Fried, CEO, FTX
- Alexander Höptner, CEO of Bitmex
- Luuk Strijers, Chief Commercial Officer at Deribit
- Danielle Tichner, CEO & Founder of W-SOURCE /FuturaeX
Speaker Alerts Coming Soon!
MODERATOR
Patrick Lowry, CEO, Iconic Holding
AGENDA:
CEST 15:00-15:40 Introduction and Panel Discussion
CEST 15:40- 16:00 Q&A
Register today and you will receive a confirmation email containing information about joining the webinar!
Recent market research reports:
• How Effective are Common Investment Strategies with Bitcoin?
• The Impact of Crypto Currencies on the Sharpe Ratio of Traditional Investment Models
• Investigating the Myth of Zero Correlation Between Crypto Currencies and Market Indices
• Discovering Institutional Demand For Digital Assets In DACH Region
We've created the Iconic Bar On The Block Webinar series to help people stay up-to-date on the latest market trends! We hope you will be able to join us in our webinar sessions and we look forward to meeting you at our local networking events at a later stage!
For more events, webinars, webcasts, and fintech-related content follow us on LinkedIn, Twitter, and Facebook, and check our latest episodes of Blockchat with Pat podcast on Iconic's Youtube channel.