Event Information
Location
the drawing room@54
The Drawing Room@54
54 Turners Mill Road, Haywards Heath, RH16 1NN
West Sussex
RH16 1NN
United Kingdom
Description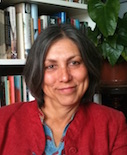 ''An important novel, told beautifully with arresting delicacy and sensitivity."
Jacob Ross, FRSL, Author of Pynter Bender, shorlisted for the Commonwealth Writer's Prize.
About Belonging
From the darkest days of the British Raj through to the aftermath of the First World War, Belonging tells the interwoven story of three generations and their struggles to understand and free themselves from a troubled history steeped in colonial violence. It is a novel of secrets that unwind through Lila's story, through her grandmother's letters home from India and the diaries kept by her father, Henry, as he puzzles over the enigma of his birth and his stormy marriage to the mysterious Rebecca. Set in India and Sussex.
Umi Sinha is a writer and storyteller. She was born and grew up in India and moved to the UK when she was fifteen. She has an MA in Creative Writing from Sussex University and taught on the two year Certificate in Creative Writing there for ten years. She now teaches and supervises MA students at Brighton University as well as running her own courses, a mentoring service for writers and an oral storytelling club in Newhaven. She has had short stories published in magazines and anthologies. Belonging is her first novel.
"Captivating...Sinha is simply one of the best storytellers I've come across in a very long time."
Kadija Sesay, SABLE LitMag and co-host of Drawing Room@54.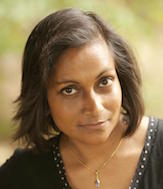 "Powerful, tender and moving."
Abdulrazak Gurnah, Professor of Postcolonial Literature, Uni of Kent ;
author of Paradise short-listed for the Booker Prize.
About A Little Dust on the Eyes
The bustle of an English seaside resort gives way to the unreal calm of a coastal community in southern Sri Lanka as Savi and Renu, two cousins separated by civil war, are reunited just weeks before the tsunami strikes. Renu is struggling to find evidence that will bring political killers to justice; Savi is struggling to heal the damage wrought by a broken childhood. They are just catching up with the secrets of the past when the past catches up with them. This haunting and richly textured novel of intersecting lives, memory and loss confronts the twin tragedies of a brutal civil war and the Boxing Day tsunami, revealing the intimate connections between silence and violence, displacement and desire.
Minoli Salgado, born in Malaysia, is a writer and academic of Sri Lankan descent. She grew up in Sri Lanka, South East Asia and England, and is a Senior Lecturer in English at the University of Sussex where she teaches postcolonial literature. Her fiction and poetry have been published internationally. She is also the author of Writing Sri Lanka, the first monograph on Sri Lankan literature in English in relation to the civil war. In 2012 she was selected as the Olympic poet for Sri Lanka in London's Poetry Parnassus and won the inaugural SI Leeds Literary Prize for her debut novel, A Little Dust on the Eyes.
The evening will include readings from both writers and a conversation with them afterwards. Make sure you arrive on time, to be greeted with a glass of wine and other refreshments, and continue the socialising after the readings, too!
*NB Umi Sinha and Minoli Salgado are writers based in Sussex, local to our venue. Both writers took part in the inaugural Fringe Saint Lucia festival in Brighton, Spring 2014. Since then, Umi Sinha, sought and published her first novel with Sussex based independent publisher, Myriad Editions. Minoli Salgado is also published by an independent publisher, Peepal Tree Press in Leeds, publishers of Caribbean and Black British writers. The final common link is that both books are superbly and beautifully written. We hope that you can join us for what will be another great event at Drawing Room 54.
Date and time
Location
the drawing room@54
The Drawing Room@54
54 Turners Mill Road, Haywards Heath, RH16 1NN
West Sussex
RH16 1NN
United Kingdom