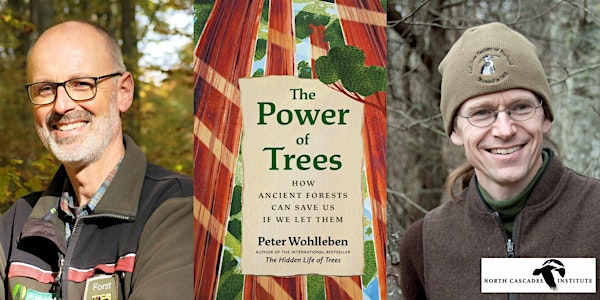 An Evening with Peter Wohlleben and Thor Hanson at Bellingham High School!
Village Books and the North Cascades Institute have teamed up once again, to bring you another great event in the Nature of Writing Series!
Date and time
Saturday, May 6 · 7 - 8pm PDT
Location
Bellingham High School 2020 Cornwall Avenue Bellingham, WA 98225
Refund Policy
Contact the organizer to request a refund.
About this event
Peter Wohlleben will present his latest book, The Power of Trees and he will be in conversation with another award-winning author and celebrated biologist, Thor Hanson! Our friends at the Whatcom Million Trees Project will also be there talking about their important work. This is an event not to be missed.
Each ticket includes a copy of The Power of Trees: How Ancient Forests Can Save Us If We Let Them, newly released on May 2!
About the book
The Power of Trees is forester Peter Wohlleben's follow-up to The Hidden Life of Trees, a New York Times bestseller that sold millions of copies worldwide. This latest work is as fascinating and eye-opening as it is trenchant in its critique: on the one hand, Peter describes astonishing discoveries about how trees pass knowledge down to succeeding generations, which scientists think is enabling them to adapt to climate change; on the other, he is unsparing in his criticism of those who wield economic and political power—who plant trees exclusively for the sake of logging and virtue signaling—even as they ruthlessly exploit nature.
The Power of Trees is a love letter to the forest and a passionate argument for protecting nature's boundless diversity, not only for the trees, but also for ourselves.
About the author
Peter Wohlleben is one of the world's most notable foresters and a passionate advocate for tree conservation. Peter lives in Germany, where he manages an ecologically conscious forest and runs an academy for education and advocacy. His books are bestsellers around the world.
Author and biologist Thor Hanson is a Guggenheim Fellow, a Switzer Environmental Fellow, and winner of the John Burroughs Medal. His books include Hurricane Lizards and Plastic Squid, Buzz, The Triumph of Seeds, Feathers, and The Impenetrable Forest, as well as the illustrated children's favorite, Bartholomew Quill. Thor's work has been translated into a dozen languages and earned many accolades, including the Phi Beta Kappa Award in Science and three Pacific Northwest Book Awards. He co-hosted the PBS Nature series "American Spring Live", and has been a guest on programs ranging from "Fresh Air" to "Science Friday", "On Point", and WIRED Currents. Hanson lives with his wife and son on an island in the Pacific Northwest.
Tickets are $32 for one person which includes a hardcover copy of The Power of Trees OR $37 for two people and one copy of The Power of Trees.*
Seating is on a first-come, first-served basis and doors open at 6:30pm.