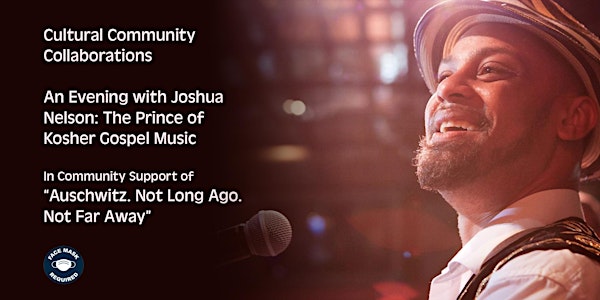 An Evening with Joshua Nelson
An Evening with Joshua Nelson: The Prince of Kosher Gospel Music In Community Support of "Auschwitz. Not Long Ago. Not Far Away"
When and where
Location
Unity Temple on the Plaza 707 West 47th Street Kansas City, MO 64112
About this event
This is a youth-oriented concert series and aimed at families from across all cultures to attend and learn through the greatest purveyor of cultural communication, MUSIC.
As a result of the Holocaust Exhibition being presented here in Kansas City, the only UNESCO Creative City of Music in the United States (Kansas City) is honored to present our designation in a unique collaboration, highlighting the importance of music to every aspect of the history and the storytelling of humanity. These Cultural Community Connections Concert Series are directed to a vast community engagement locally, nationally and internationally and our ability to galvanize the message across cultures.
Auschwitz. Not long ago. Not far away. is the most comprehensive exhibition dedicated to the history of Auschwitz and its role in the Holocaust ever presented in North America, and an unparalleled opportunity to confront the singular face of human evil—one that arose not long ago and not far away.
The exhibition explores the dual identity of the camp as a physical location—the largest documented mass murder site in human history—and as a symbol of the borderless manifestation of hatred and human barbarity.
Featuring more than 700 original objects and 400 photographs, the exhibition allows visitors to experience artifacts from the Auschwitz-Birkenau State Museum, including hundreds of personal items—such as suitcases, eyeglasses, and shoes—that belonged to survivors and victims of Auschwitz.
FACE MASK REQUIRED.