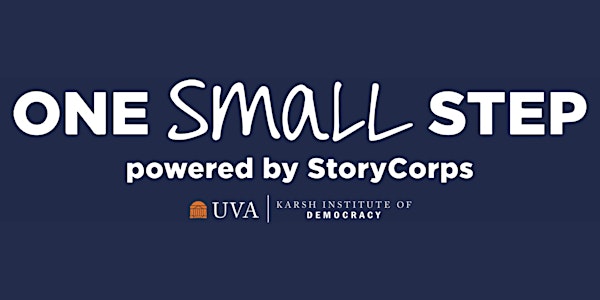 An Evening in Conversation with Del. Sally Hudson and Denver Riggleman
Join Delegate Sally Hudson (D) and former Republican Congressman Denver Riggleman as they sit down for a live One Small Step conversation.
When and where
Location
Bond House 600 Brandon Avenue Charlottesville, VA 22903
About this event
In their live One Small Step conversation, Delegate Hudson and Congressman Riggleman will have the chance to share stories about their formative political memories, influential people in their lives, and experiences with misunderstanding and connection with others.
UVA's Karsh Institute of Democracy has partnered with StoryCorps to bring One Small Step to the greater Charlottesville community. One Small Step brings individuals together across lines of ideological and other difference so they can have a meaningful exchange of stories and perspectives. To date, the Karsh Institute has recorded over 80 conversations between members of the local community, including many UVA students, faculty, and staff.
Attendance is free and open to the public. Refreshments will be served beginning at 4:15PM and the conversation will begin at 4:30PM. Parking will be available in UVA lot B2 behind Bond House.