Description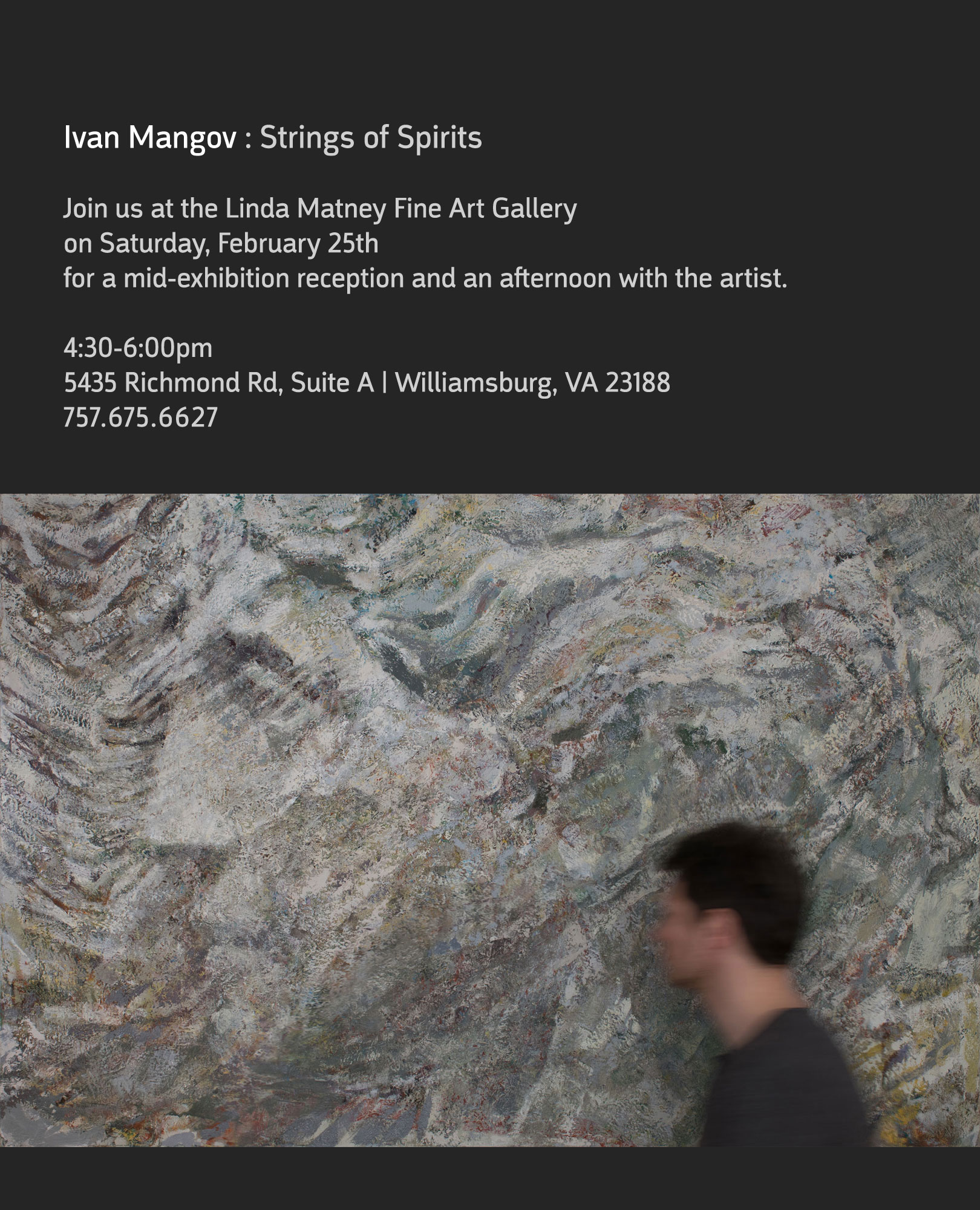 Ivan Mangov's Strings of Spirits
Join us at the Linda Matney Fine Art Gallery for a mid-exhibition reception and an afternoon with the artist.
4:30-6pm
5435 Richmond Rd, Suite A, Williamsburg, VA 23188
(757) 675-6627 LindaMatneyGallery.com
Washington D.C. based painter and architect Ivan Mangov creates oil on canvas paintings using a complex technique of multilayered underpainting. After capturing with a camera all the stages of his work, he creates videos, that aim to provide a quick insight into a slow and gradual process of painting that takes many months. Thanks to this uncommon technique he is able to create strata composed of rich textures with strong coloristic features. Depicted characters that emerge and disappear gradually from and into an abstract matter are going through changes that occur in nature: processes of creation, corrosion, erosion and dissolution.
His oil painting techniques were mastered under the guidance of the well-known Serbian painter Zdravko Vajagić. Mangov holds two MA degrees: one in Interior Architecture from the University of Arts in Belgrade, Serbia, and a second in Museography from the University of Politecnico di Milano, Italy.

He currently teaches as an assistant professor at the Faculty of Arts and Design in Belgrade and occasionally leads international student workshops. His participation in various art projects has been well-received. In particular, the exhibition "Memory Update" held at the Museum of Applied Arts in Belgrade won the prominent "Ranko Radović" award in 2014 for best exhibition of the year. In November 2016 his works were exhibited at The Smithsonian Associates in Washington D.C.