Description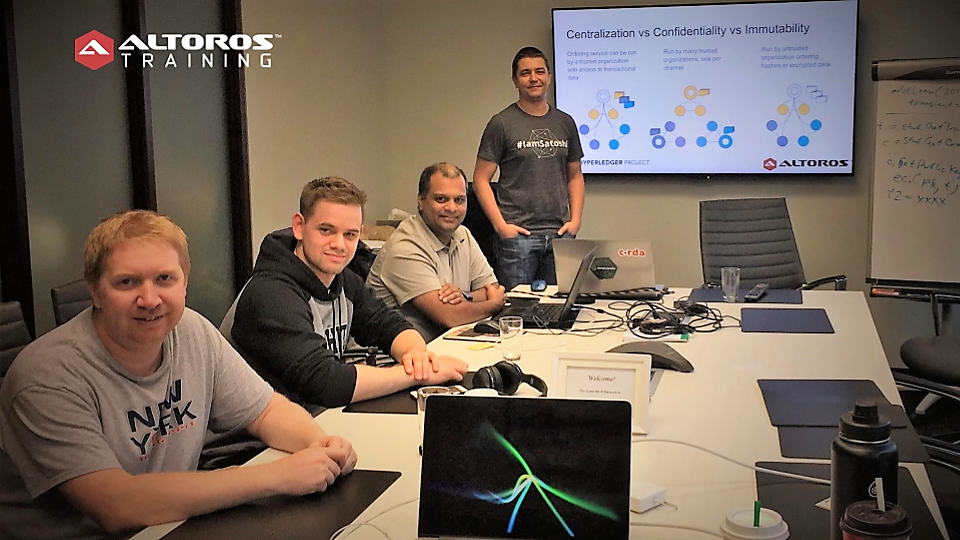 This three-day course provides a highly practical training on Hyperledger Fabric with 75% lab exercises and 25% theory lectures. Every student gets personal attention and works with a trainer experienced in developing blockchain applications on Fabric. By the end of the course, you will design a working smart contract and an application. You will become proficient in blockchain and fully armed to build real-life applications of any complexity on your own.
"The biggest value of the course? The true experience of the technology by the trainer." Software Architect
"Overall very useful, even more than what I was expecting. Thank you! The program was absolutely perfect, it fits well for a three days class." Linux System Administrator
"It was hands-on training of an expert on the Hyperledger technology experience. The training was based on very useful slides and a competent speaker Oleg." Senior Java Consultant
"Training was very hands-on and practical. Oleg was very interactive."Technical Architect
"I have attended many training on various topics in the past - but I would rate this training given by Oleg as one of the best ones. There are few things which makes me believe so: Oleg was very precise with the knowledge on the topic, Oleg is passionate about the topic, and above all - his attitude to help the attendees understand the concept right is great." Blockchain Solutions Architect
Course duration:
3 days (8 hrs per day).
Course deliverables
Automated deployment of the multi-host Hyperledger Fabric with the Solo orderer and a Kafka cluster

Practice with PoCs developed for supply chain, bond trading, and (re)insurance

Using Hyperledger Composer to create your first blockchain application

Covering the questions for the Hyperledger certification exam
Benefits to you:
Solid hands-on technical skills developing and deploying blockchain applications with Hyperledger Fabric.

Interactive experience with expert trainers who have built working blockchain apps, an opportunity to ask questions and get real-life examples.
Who should attend?
Developers writing chaincode in Golang/Java/Node.js

Architects exploring opportunities of the latest Hyperledger Fabric version

Everyone who wants to be prepared for the Hyperledger certification exam
Prerequisites and skills:
All attendees work on their laptops with:
Local installation of Ubuntu 16 (dual boot or virtual)

Docker, Docker-compose, Go v1.8 or higher

An IDE with Go support: Eclipse, VSCode, JetBrains

The t2.medium EC2 instance on AWS for a multi-host deployment
Basic knowledge of Golang, Java, or JavaScript (syntax, control flow)
Basic understanding of PKI and Docker

Please make sure you have the confirmation of the training dates from the organizer before making any logistics arrangements and reservations (flight booking and hotel reservation if you are travelling to attend the course).
Training Program
Day 1.
Introduction
Intro to the blockchain technology

Public and private blockchains

The Hyperledger Project and an overview of its core frameworks
Hyperledger Fabric
An architecture, a consensus mechanism, and a transaction flow

Smart contracts (chaincode)

Hyperledger Fabric v1.1 vs. v1.2: new features and opportunities
Day 2.
Hyperledger Fabric deployment automation: Fabric Starter
Set up a Hyperledger Fabric network in a developer mode (on a single host)

Multi-host Fabric Starter with the Solo orderer or a Kafka cluster
Practice with PoCs developed on Hyperledger Fabric
Supply chain management: Assets origination and transfer

Bonds trading platform: A matching mechanism

A reinsurance platform (an advanced use case)
Day 3.
Hyperledger Composer
Composer playground

Lab work: Create a blockchain application
Hyperledger certification exam: An overview of the questions
About the Trainers:
Vitaliy has engineering background in Electronics and holds MBA degree majoring in Finance from Manchester Business School.
His career started in banking: trading in capital markets helped him accumulate knowledge of financial instruments and trading systems.
Later on, Vitaliy worked as a Finance director focusing on FinTech solutions that gave profound knowledge of business processes in various industries: consumer goods production, telecommunications, retail and real estate development. With the emergence of blockchain technology, Vitaliy has realized new potential as an investor and ICO researcher and now contributes as a blockchain business trainer focusing on business solutions.
Greg Skerry, Blockchain Solution Architect, Trainer at Altoros
Greg joined Altoros as a supporting Trainer on Blockchain and Hyperledger Fabric. Previous to this position, Greg worked as Project Manager at Thomson Reuters where he was involved in systems integration and product management of an industry-first cloud-based tax analytics and reporting platform, advising implementations for Fortune 500 and Fortune 100 clients. Greg also previously worked in Senior Analyst and Senior Consultant positions at BDO LLP, and at Ernst & Young, LLP.
Greg graduated from the Software Engineering Immersive at Fullstack Academy of Code in New York City, centered on full-stack JavaScript programming, including Node.js, Angular, React.js as well as SQL and NoSQL data architectures, and has developed distributed applications using the Ethereum framework. He holds a B.A. in International Economics from University of Virginia.
FAQs:
Am I a good fit? You need some knowledge of Golang or Java: know syntax, control flow. Blockchain experience is nice to have, but not required.
Can I pay by invoice? Please send details at training@altoros.com: full name, number of tickets, your address or your company's address (if the invoice is paid by the company).
If you have questions about the program or doubts whether this course is a good fit for you, please get in touch and we'll connect you with the trainer!
Help us spread the word
We'll love you forever if you share this event with your friends or colleagues who might be interested!
About the Organizer:
Altoros is a digital transformation consultancy that has built a reputation in blockchain space. We are an active member of Hyperledger project, contributing expertise of our engineers.
We have built a number of blockchain application prototypes for insurance and financial services clients and conducted technical training on Hyperledger Fabric 0.6 for a large financial services corporation, as well as a number of blockchain workshops for executives in (Re)Insurance, Lending & Securitization field.
Read blockchain news and insights on our blog

Watch free recorded webinars on Hyperledger-related topics (choose tag HYPERLEDGER)