Description
TWO SHOWS - 6pm and 8:30pm! Select your option by clicking the Ticket button on the right.
____
Amplify Her Vancouver - a Feature Documentary, Graphic Novel and Motion Comic Series
Music heals, right? Depends on the depths of the wounds. In Amplify Her, three Electronic Dance Music artists battle demons from their painful pasts to emerge as beacons in the global festival scene. Blondtron, Applecat and Lux Moderna overcome isolation, illness, and gender bias to give life to their creativity.
This visually dynamic film weaves animated motion comics created by the characters and 30 female creatives from around North America (over half from Vancouver) to offer intimate access into the colourful worlds of emerging female artists. Rather than ask the expected: "why aren't there more women in this male dominated scene?", we wonder: "what is unique about feminine expression and how might we all benefit when it flourishes?"

Shot at festivals around the world including: Bass Coast, Burning Man, Center of Gravity, Enchanted Forest, Envision, Erotica Electronica, Faerieworlds, Groove, Rainbow Serpent, Rifflandia, Shambhala, Sonic Bloom, Tall Tree, Luminosity amd Lucidity.
SPECIAL EVENT - ONE NIGHT/ TWO SCREENINGS!! (get your tickets early!)
SCREENINGS & AFTER-PARTY
Two Showings - 6pm (doors at 5:30pm)
Features a live performance by COZY before the screening!
8:30pm (doors at 7:45pm)
Features 60 min performance by KYTAMI following the screening!
**Sponsorships and group sales available! email amplifyherfilm@gmail.com for exciting packages!**
Our 144 page graphic novel is hot-off-the-press! Get a $5 discount on graphic novel by pre-purchasing it with your movie ticket, or purchase separately at the event for $30.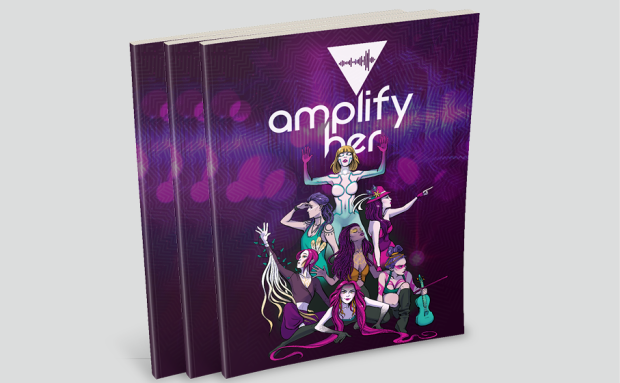 FILM SYNOPSIS
Blondtron is an outspoken, openly sexual music producer who crafted her latest track, 'Set Your Pussy Free' as an anthem for empowering women. Yet as she transitions into an entrepreneur launching her own tech company, her raunchy antics prevent her from being taken seriously.
AppleCat is a sharp-witted DJ with heart, struggling to make ends meet - raising her young daughter by day and occasionally gigging as an online 'camgirl' at night. Her gift lies in creating soundscapes that allow others to release their sexual shame, yet to truly succeed, she must first forgive herself.
On the heels of beating a mysterious decade-long illness, Lux Moderna channels her healing mantras into her music, creating spaces of shamanic transformation on the dance floor. Yet her biggest challenge awaits her: stepping out from behind the decks and performing as a center-stage priestess.
Amplify HER explores these rising stars and more (CloZee, Kytami, Wala, and A 100 Drums) as they come-of-age amidst the emerging cultural renaissance of the feminine.
Learn more amplifyher.com
REVIEWS
"The directors' intentions are unimpeachable; we need more in-depth, inspirational works that examine women artists from a female perspective" - Dave Segal, The Stranger
"The film's outstanding cinematography provides a vivid framework for the stories of these remarkable women to unfold, and the top-notch soundtrack creates an evocative viewing experience. - Little D, Betty and Kora
" My heart is richer, and so is my mp3 player. " - Chris Burlingame, The Sun Break
AFTER PARTY Dec 1st @
Experience the music after the screening:
Featuring AppleCat (from the film)
along with: J.F.Killah, Alex Mei, Sinerise,

Full Details:
10pm-3am
Event details on the facebook page here.