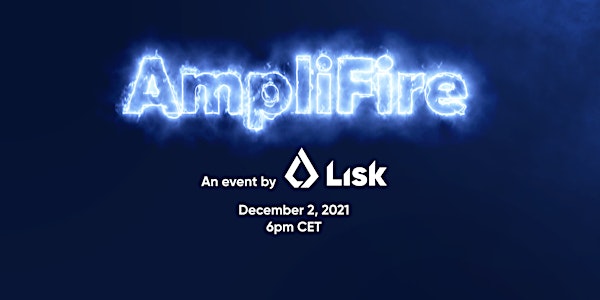 AmpliFire
AmpliFire, an event by Lisk, aims to show the world we are not inactive by any means. On the contrary, we are very much alive and on fire!
When and where
Location
Amplifier Berlin Gustav-Meyer-Allee 25 #Gebäude 12.5 13355 Berlin Germany
About this event
AGENDA
6:00pm - 7:00pm Open Doors
7:00pm - 7:15pm Welcome to AmpliFire | Monica & Miguel
7:15pm - 8:00pm The Case for Lisk | Max
8:00pm - 8:10pm HackOnLisk2: DeFi & GameFi Prizes | Miguel
8:10pm - 8:20pm Lisk in Retrospect | Max
8:20pm - 8:40pm Research & Development - Lisk Platform Launch in 2022 | Jan & Shu & Manu
8:40pm - 9:00pm Marketing - Let's Get Loud in 2022 | Monica
9:00pm - 9:15pm The Ultimate Vision for Lisk | Max
9:15pm onwards Networking
YouTube livestream: https://youtu.be/31XPRrrBBX4
This is an event designed to suit everyone. It is geared towards both technical and non-technical individuals, blockchain enthusiasts, entrepreneurs, investors, and basically anyone interested in the crypto and blockchain industry. AmpliFire is all about celebrating our competitive advantages within the blockchain world, together with showcasing why blockchain, and why Lisk.
It will also provide us with an incredible opportunity to unveil some of the key announcements and brand new partnerships we have now established, coupled with our extensive vision to amplify Lisk in the future.
Finally, we could not be happier to host another in-person event in Berlin, to facilitate networking sessions, and other fun activities.
❗️ COVID-19 Information ❗️
◾️ The location is properly sanitised by the team at Amplifier.
◾️ Disinfectant spray & hand sanitisers are available.
◾️ The recommended social distancing is practised.
◾️ 2G+ regulations apply:
-> You need to present a valid vaccination certificate or a recovery certificate when entering the venue.
-> You need to present a negative COVID-19 antigen test done not later than 24h before the event.
-> There will be COVID-19 antigen tests available when entering the venue. (optional)
◾️ The certificates will be checked using the CovPassCheck app.
◾️ We recommend guests to wear FFP2 face masks during the event.