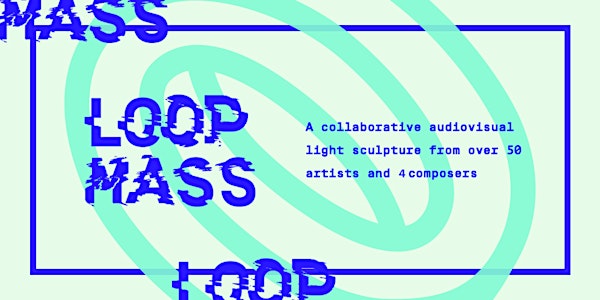 AMODA & CAPTIVE PRESENTS: LOOP MASS w/Justin Sherburn & Matt Steinke
When and where
Location
The Off Center 2211 Hidalgo Street Austin, TX 78702
Refund Policy
Contact the organizer to request a refund.
Description
Basic Info
The Austin Museum of Digital Art and Captive are proud to present LOOP MASS on Aug 26th. This event is ambitious collaborative installation project incorporating motion work from over 50 visual artists. These artists' looped videos will be projection-mapped onto a massive floor-to-ceiling, suspended sculpture. The space will function as an animated art gallery and a unique activated environment for special musical performances by Austin-based composers Justin Sherburn and Matt Steinke.


Curatorial Statement
This event will be a technological feat for creative directors, Ryan Padgett and Stephen Fishman, as they design the experience, construct the edifice and technical foundation, and deploy software-based solutions to place every video clip accurately onto the surface of over a hundred suspended picture frames, and other found objects. The audience is free to explore the sculpture while the musicians perform their pieces. The video content will 'react' to the live performance, reorganizing and re-sequencing, to reflect thematic and emotional cues in the music itself. Some composers will be exchanging data with the video crew to create an even stronger integration with the visuals.
This unique piece will create a new benchmark for live audiovisual design and performance in Central Texas. It draws from an ever-expanding talent pool of collaborators who have contributed to the creation of a new visual instrument to be play.


Schedule
Doors at 7pm.
Performances from 9pm – 11pm.
More Details
Austin Museum of Digital Art
http://www.amoda.org/events/loop-mass/
Justin Sherburn & Montopolis
http://montopolismusic.com/
Matt Steinke
http://matthewsteinke.com/
Captive Studio
www.captive.co