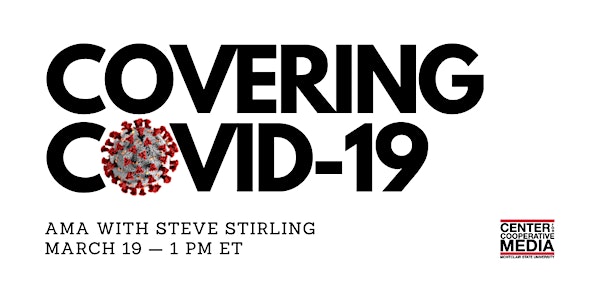 AMA: Steve Stirling answers your questions about reporting on COVID-19
Ask Me Anything: Steve Stirling will answer your questions about covering the coronavirus.
About this event
We invite you to join the Center for Cooperative Media and members of the NJ News Commons for an AMA with Steve Stirling on March 19 from 1-2:30 pm ET.
Steve is a former investigative reporter for NJ.com who is now project editor for Columbia Journalism Investigations. He recently started his own daily newsletter called Coronaviral to catalogue updates and information about the way COVID-19 is impacting New York, New Jersey, Connecticut, and Pennsylvania.
Steve has agreed to answer questions from NJ News Commons members about what it's like to report on the pandemic, where to find accurate data, and any other questions you might have for him.
NOTE: Steve also creates daily graphics and data visualizations about COVID-19 and makes them available for republishing at no charge.
This AMA will be held via Zoom Conference and is open to all NJ News Commons, NJ College News Commons, and ONA New Jersey members. Check the info before or the digital links section for instructions on how to join the webinar.
Questions? Contact the Center at info@centerforcooperativemedia.org.
————
Use this link to join the webinar: https://zoom.us/s/491182107