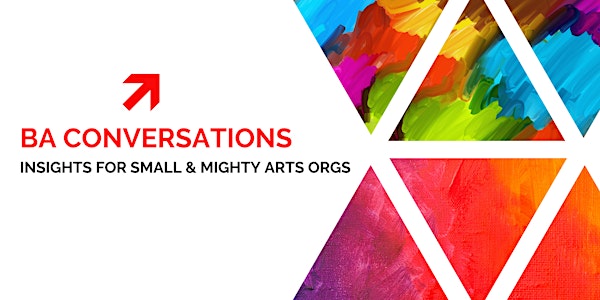 Am I Ready for Strategic Planning?, with Pi-Isis Ankhra
In April's Conversation, we'll be talking with entrepreneur, Pi-Isis Ankhra, about all things strategic planning.
Refund Policy
Contact the organizer to request a refund.
Eventbrite's fee is nonrefundable.
About this event
ACCESS: If you would like to request live communication access real-time translation (CART) captioning or other accommodations for a webinar, please send your request, including the name and date of the webinar, to alicia@benvenutiarts.com.  We ask that accommodation requests be sent at least 3 business days before an event's start time.
What do you think about when you hear "Strategic Planning"? Focus groups? Budgets? The terrifying unknown of the future?
For many of us, we throw around this term without really knowing what it means or what strategic planning can do for us and our organizations. Often, we'll enter into a planning process without truly being prepared for the challenge and discomfort that comes with it, let alone the added work. Especially with smaller entities, confronting the realities of what you need to achieve your goals can be a difficult yet necessary process.
In April's Conversation, we'll be talking with entrepreneur, Pi-Isis Ankhra, about all things strategic planning, from what it is, what it can be, and what it can do, to how to prepare yourself and your team to do it right.
Pi-Isis Ankhra lives by the rule that the whole of work and contribution is greater than the sum of its parts. There are many roles and titles that she has held throughout her career: artist, educator, philanthropic advisor, fundraiser, mentor, and producer. However, at her core, she is a strategist and humanitarian.
Humanity is at the center of all of her endeavors. She has brought her commitment to social justice to bear on her more than 20 years of experience, developing strategic initiatives targeted at leveraging private and public investments. Her strengths are in translation and problem solving by developing creative strategies and building alliances among diverse individuals, communities, and organizations serving the nonprofit, philanthropic and commercial sectors. Her career spans the fields of politics, education, philanthropy, and storytelling. Harnessing the collective power of community, she has worked in partnership with numerous institutions, including the Ford Foundation, Democratic National Committee, and the NAACP, among others, planning, fundraising and producing events to promote core social justice issues.
She also uses art as a creative and transformative tool. Her creations challenge viewers to look beyond what they know and to view other perspectives. In her role as an impact producer, she has designed strategic initiatives to engage targeted audiences and address social and cultural issues often underrepresented in mainstream media. https://www.piisissankhra.com/