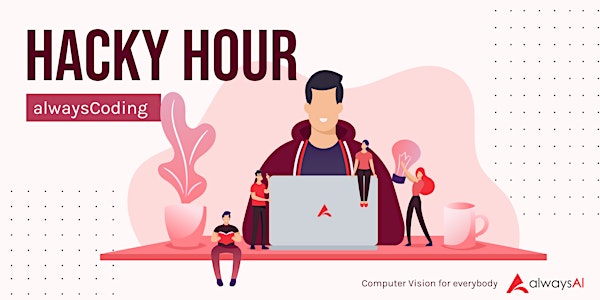 alwaysCoding- Weekly Hacky Hour
Join our team of engineers at alwaysAI every Thursday at 10:30 AM PST and learn how easy it is to get started with computer vision.
About this event
alwaysCoding- Weekly Hacky Hour
Due to unusually high demand, we are launching alwaysCoding - Weekly Hacky Hour for our community of computer vision developers. In these weekly office hours, we will lead an interactive discussion with our community, explore common computer vision use cases, walk-through detailed setup instructions, and many other topics relating to computer vision and the alwaysAI platform.
Scheduled Topics:
January 7th- Model Training Hacky Hour- Identify a Package at the Doorstep Part 3
January 14th -  Classifying with Pose Estimation and Support Vector Machines (SVM)
January 21st- Open Office Hour!
January 28th- Open Office Hour!
February 4th- How to Build a Customized Video Streamer with alwaysAI by Eric VanBuhler
February 11th -Open Office Hour
February 21st- alwaysAI and Production Devices + Open Office Hour
February 25th- Raspberry Pi Temperature Monitoring + Open Office Hour!
March 4th - Model Training with YOLO Models
March 11th- Difference between YOLO Models vs MobileNet_SSD Models.
March 18th- Deploying Computer Vision on Oak Cameras
Who should join?
Short answer: anyone!
Whether you are new to the community or an experienced user of alwaysAI, you are welcome to join, ask questions, and provide the community with information about what you're working on.
Format
These weekly workshops are intended to be informative and interactive! We want to hear your questions, comments, and address them live!
How do I join?
Our Hacky Hours are hosted on Zoom.
Add to Outlook Calendar | Add to Google Calendar |
New to alwaysAI?
Getting started with alwaysAI is free and easy, sign up here!
About alwaysAI:
alwaysAI brings deep learning computer vision (CV) to embedded devices. We provide developers an easy-to-use platform to quickly build and deploy deep learning CV applications on IoT devices like cameras, drones, wearables, robots, and transportation units. We give intelligent sight to these devices and enable them to autonomously make smart decisions in real-time.
Learn more at www.alwaysai.co