Analysis & synthesis are key to reducing piles of data into powerful insights & motivating consumers of our research to act on what we learn
About this event
Analysis and synthesis are key to reducing piles of data into powerful insights and motivating the consumers of our research to act on what we learn. Our end goal is to impact the bottom line.
But how do we analyze the data to help make actual, informed product decisions? UXR is often brought in or consulted on this topic yet many don't know how to help!
Join us to learn about different approaches to ensure your results yield meaningful and actionable product decisions. Takeaway tools, templates, frameworks, triangulation techniques, and get inspired to roll up your sleeves in new ways.
We'll also cover lesser-known and leveraged thematic content analysis tactics and formats, 2x2 frameworks to build on affinity diagramming, and touch on mind mapping, search log analysis, spectrum analysis, and discuss the difference between findings and insights.
Networking topics
UXRS strives to create a community where people can make meaningful connections with others in the UX field. Come for the presentation, stay for the UX networking.
Topic1: If you had to delete all but 3 apps on your phone, what would they be?
Topic2: What's one new approach you want to try to implement when analyzing data?
Agenda
5:00 -5:10 p.m. (Central time, similar to Chicago and Dallas, USA) - Introduction and announcements for UX Research and Strategy
5:10-6:10p.m. (Central time) - Speaker + Q&A
6:10 -7:00 p.m.(Central time) - Networking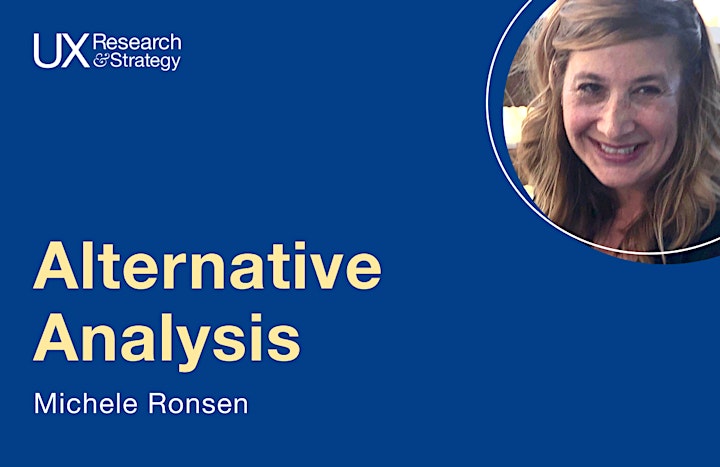 Presenter
Michele Ronsen is a user research executive, coach, and educator. She teaches design and user research to people around the world. Her corporate training and workshops are inspired by working with Fortune 500s and start-ups for more than twenty years.
In 2010, Michele founded Ronsen Consulting, a design and strategy firm specializing in human-centered research, design development, and hands-on learning programs. Ten years later, she established Curiosity Tank to help more people ask better questions in order to make confident decisions.
In 2020 Michele taught over 3200 students how to ask better questions and make more informed business decisions. LinkedIn also honored her with a TopVoices award in the Technology category.
This event is limited to the first 1,000 who enter the Zoom meeting.
We know this speaker is going to be awesome and high demand. So please consider whether you will actually be able to attend to make room for those who are eager to be there.
** Please Consider Donating **
A Donation Ticket to this webinar is the same as a regular admission ticket to the event. Plus, you are helping keep this event FREE for attendees around the world. Please consider getting a donation ticket as your admission ticket to help UX Research and Strategy provide events like this to the UX community. If you prefer to donate to us directly, and bypass Eventbrite fees, donate now through PayPal.
Host: UX Research and Strategy
UX Research and Strategy is a registered 501c3 group devoted to teaching and exploring topics related to User Experience Research and Strategy. Started by three very talented ladies, Jen Blatz, Lorie Whitaker, and Lauren Singer, who saw the need to address the gap in these topics in the local UX community. The hope for this group is to enrich and complement the UX Design community through knowledge sharing and partnership.
Whether you are a researcher, designer, product owner, strategist, content creator, project manager, developer, technologist, marketer, customer experience pro or any other discipline, please join us.
For more information:
Please note that by attending our events, you are granting us permission to potentially use a photograph including you on our social media channels and website. Don't worry, we will try our best to make you look good.
For online events, and for your privacy, if you do not want your name or image potentially appearing on a Zoom screen, please anonymize your name in Zoom and hide your video.
Please note, we are unable to refund donations.
A Zoom link to the webinar will be provided in your confirmation ticket. Scroll down through the email and you will see the zoom link to join.
UXRS code of conduct. By getting a free or donation ticket to our events, you agree to read and abide by the conditions of this code of conduct. Failing to do so will result in immediate removal from our events and any social media channels. We expect you to be respectful of everyone in our UXRS community.
Thank you for your support!