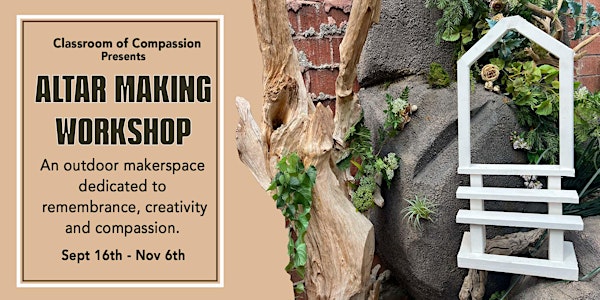 Altar Workshop: Create a personalized Altar for your loved one
Altar Making Workshop hosted outdoors at a venue Burbank. All participants will leave with a custom altar for their loved one.
When and where
Location
Classroom of Compassion 146 West Verdugo Avenue Burbank, CA 91502
About this event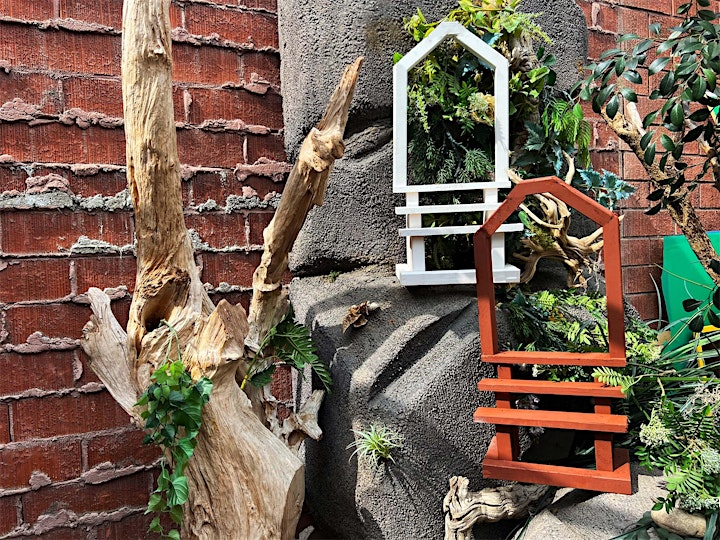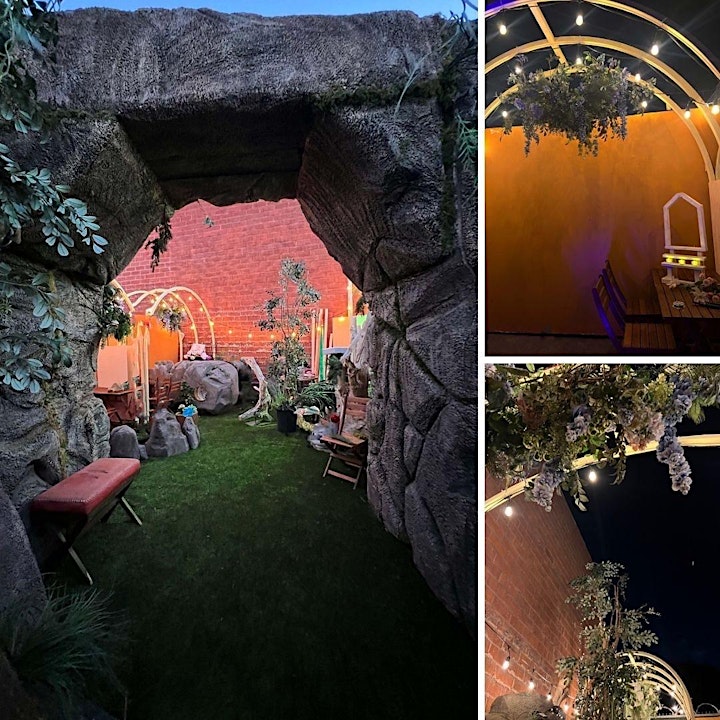 This all-ages arts workshop will give participants the opportunity to create and customize an altar to honor the memory of a lost loved one. Each two hours workshop is both a meditative and creative experience that includes a wooden table-top altar, a mounted photo of your loved one, silk flowers, candles, incense, design tools, and access to many more accouterments to personalize your piece.
These workshops are not only an expression of love but also community giving. Classroom of Compassion is grassroots Non-Profit Organization and every workshop purchase directly funds all our programming. Each altar you build here in Los Angeles will help provide an altar for a grieving community in need across America!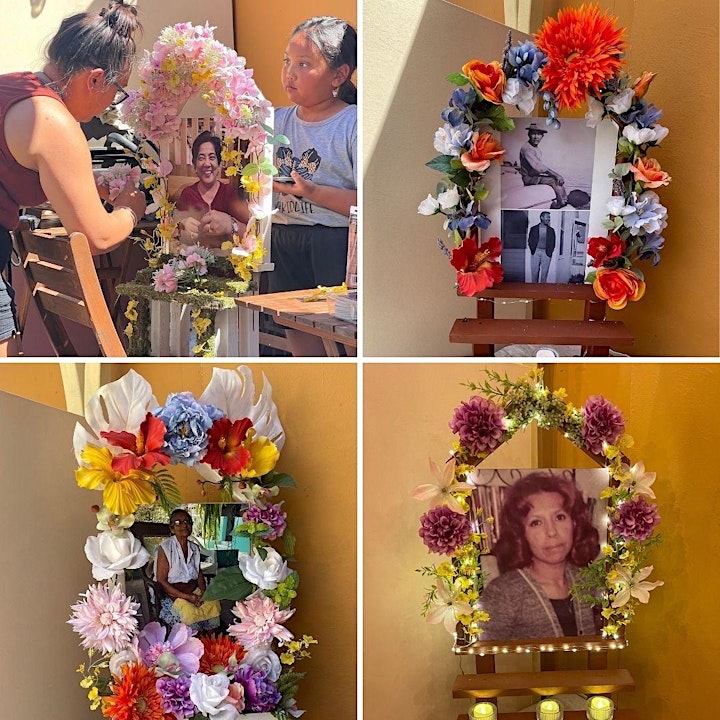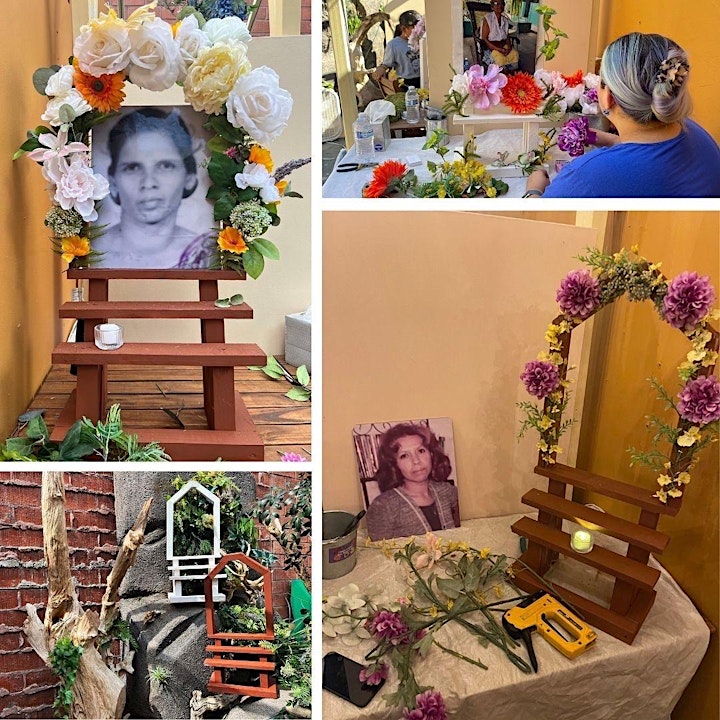 Before the Event/

Anything I need to do before the event?

After the purchase of your ticket, you will receive an email from us with instructions and guidelines on how to submit a photo of your loved one. This photo will be used as the centerpiece of your altar, and as a visual representation of the person you are honoring in your personal space.
I've never created anything in my life before – I'm nervous!
This workshop is open to all skill levels! We focus on the act of creativity and exploring new mediums to honor your loved one's story and legacy. With that said, there's no wrong way to create. If you'd like some extra guidance, we're happy to walk you through onsite!
Day of Event/
Where will this be hosted?


All workshops will take place at the Classroom of Compassion Art Studio located outdoors, in Burbank, CA. This immersive space will host you and your loved ones while you create and customize your personal altar that you will take home with you at the end of the workshop. There is a capacity of 15 people per workshop in order to keep your creating space intimate. Street Parking is readily available, just please make sure to read the parking signs!
Isn't this event outdoors? What if it rains?

 What's the weather like?
Yes, this event is outdoors. If weather looks like it will interrupt our workshop, we will reach out through the text number/email provided to reschedule your workshop to a different date.
Please dress accordingly and note that some evenings the temperature can be chilly.
How is the accessibility?
Our studio space is ADA accessible, but if you require any accommodations please let us know as soon as possible at: workshops@classroomofcompassion.com
What if I'm running late?
We're happy to check you in for your scheduled time whenever you arrive as long as it's within your time slot. If you don't finish with the available time left, we're happy to help you package some materials for you to finish your altar at home.
Can I reschedule once I've purchased my ticket?
Reach out to us directly at workshops@classroomofcompassion.com and we can try our best to reschedule. If no time slots are available, the option to pick up your altar and materials kit from our Art Studio will be presented.
What's your COVID protocol?
We require proof of vaccination and do not require participants to wear masks but highly encourage them if entering our indoor space. Our studio space is outdoors and we limit our workshops to 15 people max.
If you feel sick, or test positive for the virus before your workshop, please contact workshops@classroomofcompassion.com to reschedule your visit.
Is this family friendly?
While we welcome all ages to participate in this healing workshop, we just ask that an adult accompanies any participants under 16 years of age.
What is included?


Our Altar workshop includes the following:
- (1) One Altar Base per ticket
- (1) 11" x 14" Mounted Photo of your loved one
- Access to our Floral Bar to add you or your loved one's favorite flowers
- Access to our Embellishment Bar to add sparkle, texture, or color to your altars
- (6) Six tea lights (Option to upgrade to other options available onsite)
- (1) Incense Holder (Option to upgrade to other options available onsite)
- (2) Two hour maker space studio time
- All the tools needed to complete this workshop
What can I expect when I arrive?


Upon arrival, workshop participants will check-in at the entrance, and after confirming your reservation, you will be escorted to your maker station.
Your maker station will have your altar ready with a pre-mounted photo of your loved one. Each altar will be individually covered in order for you to reveal your creation privately. Your maker station will be equipped with all the tools needed to complete your altar space.
One of our compassion ambassadors will give you an overview of the space and materials, a quick safety reminder, and instructions. This workshop is intended for you to connect with the process of creativity, and while we will definitely support you every step of the way, we hope you use your time to explore these new mediums of creating a space of reflection.
What happens once I'm done?
Upon completing your altar, you will have the option of taking it home for your own personal space or having your creation packaged and shipped anywhere in the United States at an extra cost.
If you don't complete your altar within the two hours of time, we're happy to help you package some materials for you to finish at home.
Why should I take this workshop?
Our workshops are acts of creation and restorative memorial experiences that engage both the individual and our communities. We believe that through restorative spaces that help create communal containers for public mourning and communal empowerment, we're able to evoke multi-faceted feelings of loss and grief while building connection, empowerment and resilience.
All proceeds from every workshop help fund Classroom of Compassion, a Queer Los Angeles-based Nonprofit Organization. Classroom of Compassion is dedicated to the cultivation of compassion and creativity within our communities and work to create sacred moments of emotional respite that connect people through the arts. By investing your time with our nonprofit, you are also investing your care and hope into the emotional well-being of our entire country.
More than anything, these workshops are a wonderful, family-friendly way to honor lost loved ones, engage in fun healing practices, and explore your creativity solo or with a friend, for a few hours!
Thank you for joining us, and we hope you have a memorable experience!