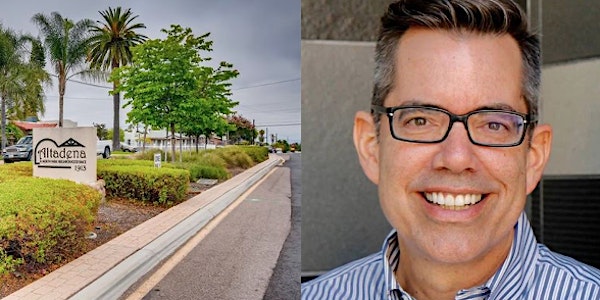 Altadena Traffic Problems Listen and Learn with City Councilmember Whitburn
Councilmember Whitburn is committed to working with the community to understand and address the commuter traffic issues plaguing the area.
By 33rd Street Safe Traffic Alliance
When and where
Date and time
Thursday, April 7, 2022 · 5:30 - 7pm PDT
Location
McKinley Elementary School 3045 Felton Street San Diego, CA 92104
About this event
Thanks to the 200+ signers of the Traffic Calming Petition who helped create awareness of the commuter traffic chaos in our area, our representatives are listening. City Councilmember Stephen Whitburn (District 3) has requested a special event to hear directly from residents in the Altadena and Burlingame subdivisions and the surrounding neighborhoods who are directly impacted by these issues. Councilmember Whitburn will be joined by Kohta Zaiser, Director of Community Engagement (Council Districts 2 and 3) from Mayor Todd Gloria's office.
Please come prepared to share your personal experiences regarding the traffic issues associated with Saint Augustine High School and other commuters/drivers so that Councilmember Whitburn can better understand the scope of the issue and work with the city to implement appropriate traffic calming measures. The more focused we are in this discussion around the volume of commuter traffic, and the speed and recklessness of some drivers, the more productive this listening event will be and the more effective we'll be in generating beneficial outcomes for the entire area, hopefully before a tragedy occurs.
The event will be hosted on the field at the McKinley Elementary joint use park. Please bring lawn chairs or blankets as no seating will be provided.
Registration is not required to attend this event, but if you'd like to be kept up to date on this issue we will likely send updates from time to time to those registered.
If you haven't signed the petition yet, or if you're unable to attend this event and want your voice heard, every comment in the petition is being reviewed by Councilmember Whitburn's office:
https://www.thepetitionsite.com/357/946/686/demand-safe-streets-for-altadena-pedestrians-now/