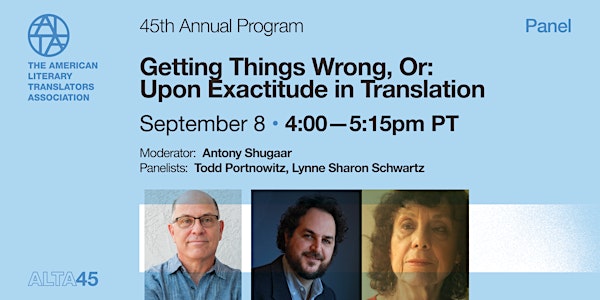 ALTA45 Panel Recording: Getting Things Wrong: On Exactitude in Translation
Use this page to purchase access to the recording of the ALTA45 panel "Getting Things Wrong," which took place on September 8!
Refund Policy
Contact the organizer to request a refund.
Eventbrite's fee is nonrefundable.
About this event
Getting Things Wrong, Or: Upon Exactitude in Translation (Panel)
The age-old question of exactitude in translation (Borges reference intended) begs an examination of what translation truly is. If the original seed of any novel is "a cathedral of fire" (M. Cunningham) — the finished book is a 2nd-best version of that flame. Each subsequent generation (namely, translations) deserves the same forgiveness. And yet translators MUST strive for accuracy; the taboo against noting errors is misguided. First, do no harm — get it right. But to err in translation is to BE a translator. Translation mistakes are DEEPLY interesting, bespeaking distances between worlds, a gulf encompassed in the mirror's face: fecund entanglements to be celebrated. Like continuity snafus, to catch mistakes is the work of a loving fan — so many Easter Eggs in the domain of translation.
Acessing the Panel Recording
Remember that if you have already paid for an ALTA45 All-Access Registration, you can use the promo code sent to your email to sign up to attend this event at no additional charge. If you are interested in purchasing an ALTA45 Registration to access all our events this year, you can do so at this link.
ALTA members receive 20% off of all tickets and registration using the member promo code. If you need your code, please search your email for "ALTA member promo code" or write to info@literarytranslators.org.
To use your 20% off ALTA member promo code or the 100% off promo code you received when you registered for an all-access pass, click "Tickets" in the event you want to sign up for, then input the code at the top of the list of tickets where it says "Enter promo code" in blue (for reference, see the screenshot at the very bottom of this page). Be sure to click "Apply," and you'll see the price change.
This event was captioned using Zoom's automatic transcription feature.
All participants in ALTA's 2022 programming agree to abide by and uphold ALTA's Terms and Conditions and Code of Conduct. Email info@literarytranslators.org with questions.
Panelists
Antony Shugaar (moderator) is a writer, translator & US editor of FMR. He's written for the Washington Post, NY Times, NY Review of Books, CJR, Lapham's Quarterly, Village Voice, Ad Age, and Adweek. He's translated over 100 books, 5 Strega-winners, Paolo Sorrentino's Young Pope, and Luca Guadagnino's We Are Who We Are, and has received two NEA translation fellowships (2007 and 2019). He lives in San Diego.
Todd Portnowitz, translator of Midnight in Spoleto, Go Tell It to the Emperor, and Long Live Latin, has won honors from Academy of American Poets and Bread Loaf Translators Conference. His work has appeared in AGNI, Asymptote, Guernica, VQR, Poesia, Poetry and SW Review. He's an Associate Editor at Knopf, co-founder of poetry blog Formavera and co-director of Brooklyn-based reading series Us&Them.
Lynne Sharon Schwartz has written twenty-eight books: seven novels, poetry, essays, stories (Kirkus: every story in Truthtelling (2021) was "perfect") and edited Crossing Borders, Stories and Essays About Translation and The Emergence of Memory, interviews with W.G. Sebald. Among her translations: A Place to Live by Natalia Ginzburg, Run for Your Life, by Silvana Gandolfi, and Smoke Over Birkenau by Liana Millu.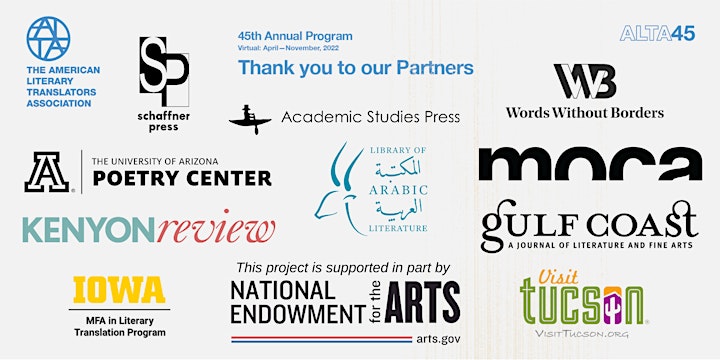 Put in your member promo code or all-access registration code after clicking "Tickets," as shown in this screenshot: