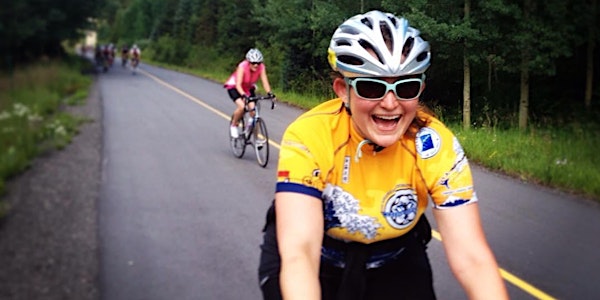 Alli's (Virtual!) Rally
Alli's (Virtual) Rally! A Ride to Remember
When and where
Location
Virtual Ride Only Virtual Ride Only Littleton, CO 80120
About this event
Alli's (Virtual!) Rally! A Ride to Remember
Event Date: August 9, 2020
Please join friends, family, and fans of Alli Gerkman on August 9, 2020 for a virtual ride to celebrate Alli's love for riding, her infectious laughter, and her extraordinary legacy. There will be no organized ride due to public health concerns, but we hope you will document a beautiful bike ride on August 9th (in your commemorative jersey if you ordered one!) and/or take time to note a special memory about Alli. Please post your photo(s) and memories on our Facebook Page dedicated to the ride and use the hashtag #allisrally on Instagram.
Support Wish for Wheels:
Honor Alli by sharing the gift of a bike with a child through Wish for Wheels, a 501(c)(3) non-profit organization that gives new bikes and helmets to 2nd graders in Title I schools. The gift of a bike fosters wellness, community, higher attendance in school, better test scores, and that wonderful feeling of FREEDOM that comes with riding a bike. You can donate any amount by clicking here. There is no obligation to give, but if you do wish to make a donation, you may do so online.
Jersey Orders Deadline: May 27, 2020
We designed a fun jersey with Alli's likeness—sure to bring smiles for miles! Jersey orders closed on May 27, 2020 but we provide the design below for your interest.
About Alli Gerkman:
Alli Gerkman was a superhero. Truth.
She was Senior Director at the Institute for the Advancement of the American Legal System (IAALS). She served on a number of Colorado Supreme Court committees focused on improving the profession's ability to serve consumers. She was a member of the Colorado Women's Bar Association (CWBA) Board and the National Advisory Council for Law School Transparency. 
Alli was honored in 2019 with the CWBA Mary Lathrop Award, an honor previously awarded to U.S. Supreme Court Justice Ruth Bader Ginsburg and former Colorado Supreme Court Chief Justice Nancy Rice. The Denver Business Journal selected Alli as a "40 Under 40" honoree in 2018. She was also awarded the CWBA Foundation's Raising the Bar award in 2017, as one of a select few "Women Lawyers Who Raise the Bar Through System Reform or Innovation." She was a fellow of the American and Colorado Bar Foundations and a member of the CWBA Foundation Circle of Minerva.
She was widely known as an innovative and passionate leader in legal reform and access to justice. She wasn't afraid to challenge the status quo. When she was diagnosed with a small-cell tumor in her breast in 2015 her passion for life and social change were amplified in ways that have forever inspired her friends, family, colleagues, and the many people whose lives she touched.
Alli loved cycling and time with family, friends, and colleagues and we all loved this time with her right back. Alli passed away on August 31st, 2019 from a rare form of cancer but she is still very much with those of us who hold her in our hearts. This ride is an opportunity to celebrate Alli's love and light within us, and to remember to carry on her incredible legacy of social justice and social change.