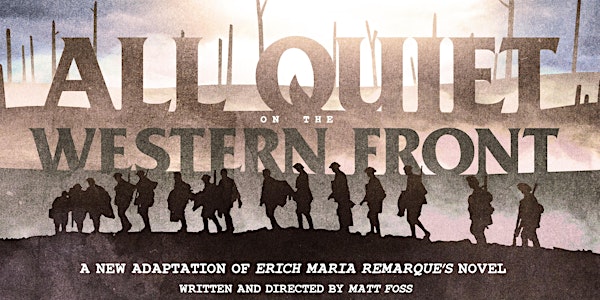 All Quiet On The Western Front
When and where
Location
Greenhouse Theater Center 2257 North Lincoln Avenue Chicago, IL 60614
Description
Red Tape Theatre starts our 16th Season with a new adaptation of Erich Maria Remarque's 1929 novel. It became both a runaway bestseller around the world, and a target of scorn for the rising National Socialists German Workers Party and their vision of a new German Reich. By the time Hitler was made chancellor in 1933, it was declared illegal to own a copy of All Quiet on the Western Front in all of Germany.
The story is centered on the experiences of 2nd Company on the German Front lines during the last year of WWI as they navigate the vicious cycle of tedium, boredom behind the lines, and constant terror when installed in the trenches at the font. The adaptation closely follows the events of the novel, as the central storyteller, Paul, speaks to the loss of friends, the deepening of human connections and the growing realization of what is true and what is not in the face of war.
Our play, adapted by Matt Foss and created with permission and in association with the Remarque estate. The story speaks to the cycles of history from which we are charged to learn, and our approach to the play seeks to gather the threads of this cycle—from the time of Remarque's writing and to our immediate present. This will be a co-production with the Greenhouse Theatre and the University of Toledo.
Written and Directed by: Matt Foss
Cast: Charlotte Mae Ellison, Caitlin Ewald, Elena Victoria Feliz, Ian Maryfield, Colin Morgan, Alec Phan, Collin Quinn Rice, Laila Rodrigues, Joel Rodriguez, Brenda Scott Wlazlo*, Bianca Canigila (US), Austin Rambo (US)
Artistic Director: Max Truax*
Assistant Director: Kate Staiger

Stage Manager: Emily Melgard
Assistant Stage Manager: Dan Poppen
Props Designer: Matt Foss
Casting Director: Catherine Miller
Sound Design, Arranger, and Composer: Dan Poppen
Costume Designer: Rachel Sypniewski
Lighting Design: Stephen Sakowski
Movement Director and Choreography: Leah Urzendowski
Scenic Design: Nick Schwartz*
Teaser Poster Design : CM Dugan
Marketing Director: Casey Chapman*
Associate Marketing Manager & Webmaster: Joseph Ramski*