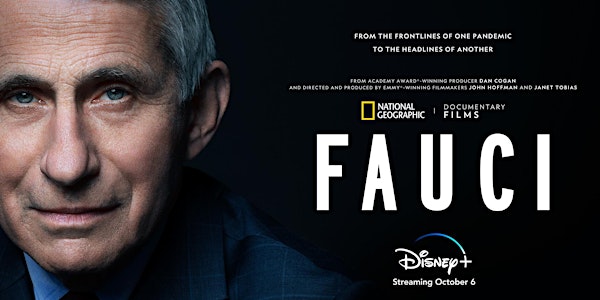 All of Us Research Program presents: FAUCI Film Screening and Conversation
The All of Us Research Program and the NNLM invite you to a special FREE screening of FAUCI from National Geographic Documentary Films.
About this event
Film: PG-13, 2021, Documentary, 1h 45m
Accessibility
Subtitles: English and Spanish
Post-Film Conversation: Livestream, 30m
Accessibility
American Sign Language Interpretation
Closed Captioning: English, Spanish, Simplified Chinese, Traditional Chinese, Korean, Vietnamese, and Hindi
With his signature blend of scientific acumen, candor, and integrity, Dr. Anthony Fauci became America's most unlikely cultural icon during the COVID-19 pandemic. A world-renowned infectious disease specialist and the longest-serving public health leader in Washington, D.C., he has overseen the U.S. response to 40 years' worth of outbreaks, including HIV/AIDS, SARS, and Ebola. Crafted around unprecedented access to Dr. Fauci, National Geographic Documentary Films' FAUCI is a revealing portrait of one of our most dedicated public servants.
After the film, hear from longtime AIDS activist and survivor Michael Manganiello in a discussion about the importance of participation in medical research.
How to watch FAUCI with All of Us:
Option 1: Live Virtual Watch Party on January 27, 2022, at 6 pm ET. Join us for a 30-minute, live discussion right after the film at 7:45 pm ET.
Option 2: Watch at your convenience. Video on Demand will be available starting January 27, 2022, at 8:15 pm ET. The film will be available for free until January 31, 2022, at 11:59 pm ET.
El documental y la conversación posterior contarán con subtítulos en Español, para ver los detalles del evento en este idioma puede visitar la traducción automática en: https://bit.ly/3HpJrqg
Note: A Disney+ account is not required. A separate viewing link and password will be distributed via email on the day of the event.