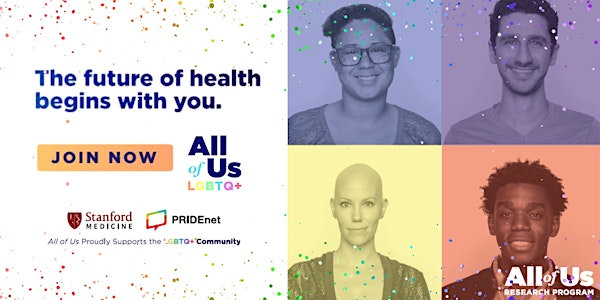 All of Us Research Program Info Session & Lunch
Come join us and learn more about All of Us, so that LGBTQ+ people can help ensure their community is included in health studies! #AoULGBTQ
When and where
Location
Grand Rounds Room, Stanford Center for Academic Medicine 453 Quarry Road Palo Alto, CA 94304
About this event
We invite the Stanford community to join PRIDEnet for an in-person presentation to learn more about how the All of Us Research Program may help change the future of health. Free lunch will be provided, and you can pick up some fabulous swag!
The National Institute of Health's All of Us Research Program is inviting at least one million people across the U.S. to help build one of the most diverse health databases in history. LGBTQ+ people, like many other groups, have often been left out of medical research. As a result, we know less about your health and ways to provide you with the best care. The All of Us Research Program wants to change this. By joining All of Us, LGBTQ+ people can help ensure your community is included in health studies. These studies could help researchers understand health conditions that are more common among LGBTQ+ people. What they learn could lead to more tailored approaches for preventing and treating those conditions.
PRIDEnet, based at Stanford, is a National Community Engagement Partner with All of Us. During this event, PRIDEnet staff will also be available to support you with creating an All of Us account.
Please note that in order to participate in All of Us, you must be age 18 or older and live in the United States or its territories.
Thursday, February 2, 2023
12-1pm
Grand Rounds Room, Stanford Center for Academic Medicine (CAM)
453 Quarry Rd, Palo Alto, CA 94304
Questions? Contact: allofuslgbtq@stanford.edu
Interested in signing up for the All of Us Research Program but can't make the event? Learn more and create an account at: https://joinallofus.org/stanfordonlinelgbtq