All About Flower -Certify with Confidence- The Science Behind The Cannabis Plant
About this event
As more states adopt Cannabis Flower as a method of delivery for their consumers and patients, it is imperative that our health care providers are knowledgeable on all things cannabis plant. Like you, our panelists and moderator did not receive formal cannabis education in graduate and medical school and are here to fill in those gaps. Enter- Dr. Riley Kirk and Dr. Miyabe Shields- two cannabis research titans who have dedicated their careers to cannabis education, research, and product development.
In this masterclass, you as a provider will learn all about Flower: what conditions it is best for, its thousands of components, how it differs from other methods or delivery, and SO much more.
When: Wednesday, Feb. 23 at 5:30pm ET
Where: Zoom Webinar (https://zoom.us/webinar/92023890835)
Moderator: Dr. Paloma Lehfeldt, MD -Senior Director of Clinical Science and Partnerships, Goodness Growth Holdings
About our panelists:
Dr. Riley Kirk, PhD:
Riley Kirk is a natural product chemist with her Ph.D. in pharmaceutical sciences. Her research interests have broadly focused on the use of medicinal plants in combatting antibiotic resistance and alternative pain treatments to opiates.
Her current research interests focus on characterizing the transformation and rearrangement of Cannabis secondary metabolites during the smoking process and how we can better predict what pharmacological effects this leads to.
Dr. Kirk is passionate about providing free and accessible Cannabis education to all users, mainly through social media channels. More education will facility safer consumption methods, laboratory testing, and transparency.
Dr. Miyabe Shields, PhD:
"Cannabis saved my life. I research the molecular basis of cannabis, because I believe it is a powerful therapeutic option for mental health, gastrointestinal, and chronic pain disorders.
Miyabe Shields, PhD is a pharmaceutical scientist who specializes in endocannabinoid system (ECS) drug discovery, co-founder of Real Isolates LLC, a cannabis research company, and co-inventor of smokenol, a cannabis smoke extract.
Their research began in 2010, the same year they received their prescription for medical cannabis. From 2010-2012 they evaluated drugs that act downstream of the ECS in animal models at the University of California, Davis. From 2012-2018 they completed their PhD at Northeastern University investigating the structural biochemistry of ECS targets. Since then, Dr. Shields has focused on the phytocannabinoids with a special interest in rare cannabinoid formulations, especially in cannabis smoke.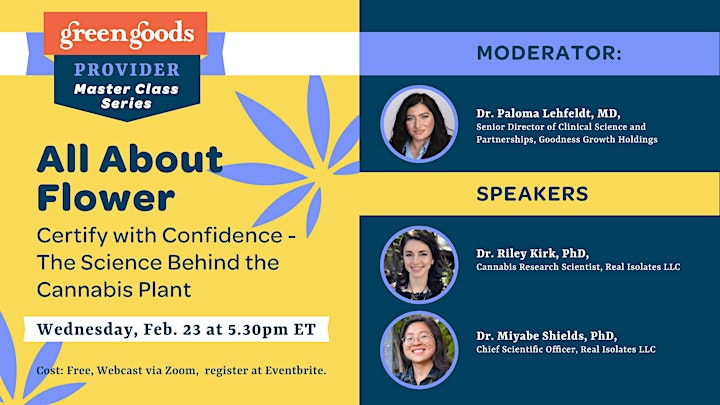 https://zoom.us/webinar/92023890835