Explore hidden gems in the Baldwin Hills, including Kenneth Hahn State Rec Area. Learn to fish, birdwatch or hike to the scenic overlook!
About this event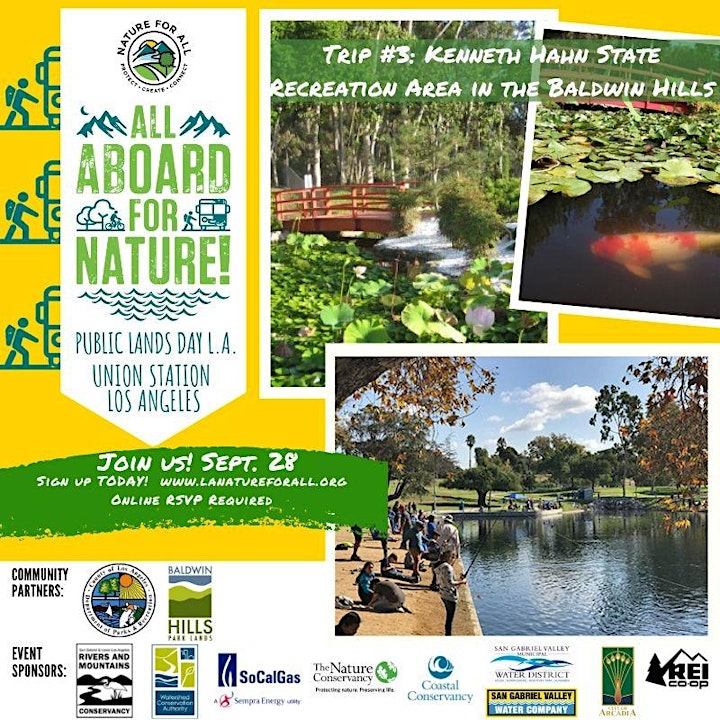 Nature for All presents All Aboard for Nature Trip #3: Kenneth Hahn State Recreation Area - a unique trip and one of the best kept secrets of one of the largest urban parks in LA!
Kenneth Hahn State Recreation Area is an urban oasis of over 338 acres of open space above LA. The Park, named after local politician and civil rights supporter, Kenneth Hahn. The Dr. Martin Luther King "I Have a Dream" monument stands tall atop the park with scenic views of the City below.
Enjoy the network of scenic Baldwin Hills multi-use trails including the Park to Playa trail system that provides access points to/from the surrounding communities and is part of a Regional Open Space Trails Corridor from the Park to the Pacific Ocean!
The park has quite a storied history as a recreational hub was also the site of the first Olympic Village in 1932. Visions of the past can be found at the Visitor Center with short informational films and photo exhibits.
Don't miss this park with so many unique features:
Lunch Stop Tour at Stoneview Nature Center!
Enjoy your lunch and guided tour at the Stoneview Nature Center. Learn more about how this urban landscaped Park has a new vision for the future. "One Big Park" adopted by the Baldwin Hills Conservancy.
Hike above LA!
Hike to the top the Baldwin Hills Reservoir to see amazing vistas of the City and historical places along with the urban trails or travel the shorter parkside paved walkways.
Visit the Japanese Garden then hike up via the trails to the top of the park for a full workout overlooking Janice's Meadow once the storied Baldwin Hills Reservoir.
The healthy, but challenging and vast Parks to Playa Trails Corridor connects the park to the Pacific Ocean providing some of the best opportunities for breathtaking views of the northward to see Downtown LA and the San Gabriel Mountains in the distance or take a look south for ocean views. Meanwhile, along the edges of the park, a sheer contrast to the natural settings are the views of the Inglewood Oil Fields.
For kids and families: Use the CA Parks - Agent of Discovery APP and go on a Scavenger Hunt if the Park!
Get exploring: Agents of Discovery App Scavenger Hunt. Download (ahead of time) the new, free augmented-reality Agents of Discovery mobile app from Google Play or the App Store. After downloading the app, find the participating park's mission within the app and download it BEFORE heading to the park. No data or Wi-Fi is required to play the mission once it has been downloaded. Discover hidden secrets while exploring the park in an engaging way!
Go fishing!
On Public Lands Day we will get the chance to chance to fish at Kenneth Hahn lake. US and CA Fish & Wildlife will be on hand to experience a relaxing and successful day catching their first fish!
How to get there?
Metro Red or Purple to 7th Street to Expo Line to Jefferson/La Cienega Station - Connect to the Baldwin Hills Link Shuttle (group of 20) per shuttle.
Limited to 50 seats, reserve now!
Schedule (subject to change):
8:00 am All Aboard for Nature! Morning Festival begins at Union Station. Enjoy activities and honored speakers. Visit booths and fill your passport to win raffle prizes!
8:00-9:00 am TRIP CHECK-IN. Show your Eventbrite ticket (phone is fine), at the Trip Check-in table to confirm your reserved seat, and find out where to meet your group. If you do not have a ticket, we will be taking a Wait List if any seats open up. Note: If you are not checked in by 9:00 am, we will have to release your seat(s) to those on the Wait List.
10:00 am TRIP DEPARTS via Metro LA Purple Line to 7th Street Metro connecting to Metro Expo Line Station to Downtown Santa Monica. Travel 27 minutes (10) stops to La Cienega/Jefferson Station
11:00 am Walk 2 min to The Link - Baldwin Hills Parklands Transit to Kenneth Hahn State Recreation Area
11:15 am Arrive at Baldwin Hills Stoneview Nature Center for lunch stop and guided tour hosted by the Baldwin Hills Conservancy.
12:30 pm Arrive Kenneth Hahn State Park Visitor Center
1:00 pm Fishing/Hiking/Birding or go explore on your own.
3:00 pm Meet at Visitor Center / Link-Expo - Return to La Cienega Jefferson Station Metro Expo Line connecting back to Union Station.
4:30 pm Union Station
-----------------------------------------------------------------------------
What to bring:
Your lunch & snacks, water bottle. Hat, Sunscreen, Sunglasses, Cell phone/charger.
We are riding Metro for this trip. All participants must bring a TAP card loaded with 2 bus fares to go and return. You may purchase fares at Union Station. ($1.75 x 2= $3.50). Please be loaded and ready to go before our 10 am departure.
Fishing gear if you have it. A limited supply will be available.
Binoculars if you have them, to birdwatch along the walk.
Cash! Enter our fundraiser raffle & win great prizes including REI & Patagonia goods.
-----------------------------------------------------------------------------
Liability Waiver & Minors:
When registering online, all participants need to click & accept the terms of the liability waiver. Waiver forms will also be available at the event.
Participants under 18 must have a guardian or group guardian on the trip.
For guardians of minors and groups, please download the liability waiver and have your minors' guardians sign the form and bring them when you check in for the trip.
-----------------------------------------------------------------------------
Locations:
Union Station: 800 N Alameda St, Los Angeles, CA 90012
Union Station is Downtown Los Angeles' transit hub. It's easiest to arrive by transit, bike, scoot or walk. Paid parking is available but we encourage you to make this a multi-modal/transit day!
Kenneth Hahn Park: 4100 South La Cienega Boulevard, Los Angeles, CA 90056
-----------------------------------------------------------------------------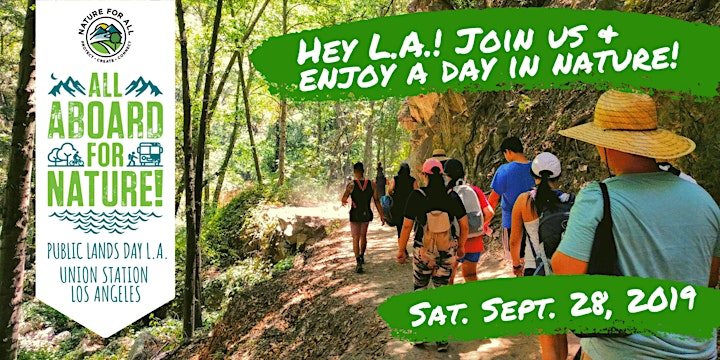 -----------------------------------------------------------------------------
This is just one part of the ALL ABOARD FOR NATURE! Public Lands Day L.A. event, presented by Nature for All on September 28, 2019. First we'll kick off with a family-friendly Morning Festival at Union Station. Then we'll head out for five transit trips: to the beach, the mountains, the L.A. River and parks around Los Angeles County. Find details on the event website. Share the Facebook event. You're invited!
#ALLABOARDFORNATURE! Photo Contest
Share your experience with the hashtag #AllAboardforNature, tag us @lanatureforall and post your photos to enter our social media raffle to win prizes! We want to see all the fun you had getting outdoors on National Public Lands Day! You may also email photos to bryan@lanatureforall.org to be featured on our social media! Contest winners will receive free swag, and all submissions grant Nature for All permission to use photographs.