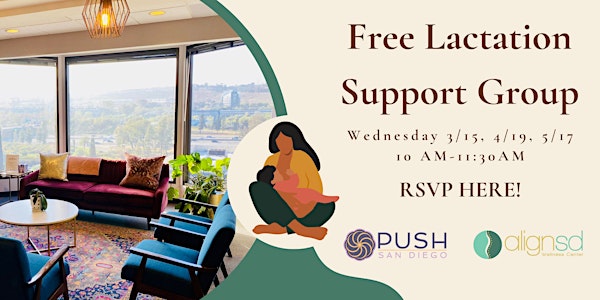 Multiple dates
AlignSD & PUSH San Diego Monthly Lactation Support Group
We welcome mommas and their babies to join our monthly lactation support group held in a comfortable, safe, and nurturing environment.
By AlignSD Wellness Center
Date and time
March 15 · 10am - May 17 · 11:30am PDT
Location
AlignSD Wellness Center 2525 Camino del Rio South #300 San Diego, CA 92108
About this event
Is breastfeeding not going the way you expected? Does it surprise you to hear that in the US, about 83% of newborns start off receiving some breast milk, but by 6 months of age, roughly only 25% of babies still receive breast milk exclusively? That's because breastfeeding is hard work and no, it doesn't necessarily come naturally! It is a learned technique shared between 2 beings that takes time, education, grace, and effort to be successful.
Our mission is to welcome all who need help in breastfeeding or who want to join our baby feeding support group in a non-judgmental space with guidance, love for creating strong family bonds, and compassion.
In these sessions, you can expect to learn:
the early signs of your baby's readiness to feed
how often your breastfed baby should eat
how much your baby should eat at each feeding
why human milk fed babies eat at different intervals than formula fed babies
how to know if your baby would benefit from a cranial and oral assessment to help improve latch and nursing
the basics of pumping
what's normal vs abnormal for breast tissue/nipple symptoms
how to make adjustments for comfortable positioning for both mom and baby to improve optimal latch for better milk transfer and less nipple pain
tools for treating nipple pain and wounds
how doing weighted feedings at our sessions will help you assess how much milk baby takes from the breast
how acupressure can help improve breast and mental health
This support group also aims to help mothers:
feel supported amongst her peers
gain confidence in feeding their baby, no matter if it's at breast/chest or bottle
create new relationships in her community
feel seen and heard and know that they are not alone!
Sessions will be guided by Alisa Galvan, L.Ac., IBCLC, owner of PUSH San Diego and held in the healing reception space at AlignSD Wellness Center. Alisa has experience supporting families around their lactation journeys for over 15 years and offers a holistic and embodied approach to her guidance while providing tools for overall well-being for both baby and the lactating mother. Dr. Bonnie Fischer, D.C., a perinatal & infant chiropractor and owner of AlignSD, is also available to all attendees to answer questions about infant cranial and oral distortion patterns that could be interfering with your baby's ability to nurse successfully.
We look forward to supporting you and your baby on your breastfeeding journey!
For more information about Alisa and her services, please visit PUSH San Diego
For more information about Dr. Bonnie and her services, please visit AlignSD Wellness Center